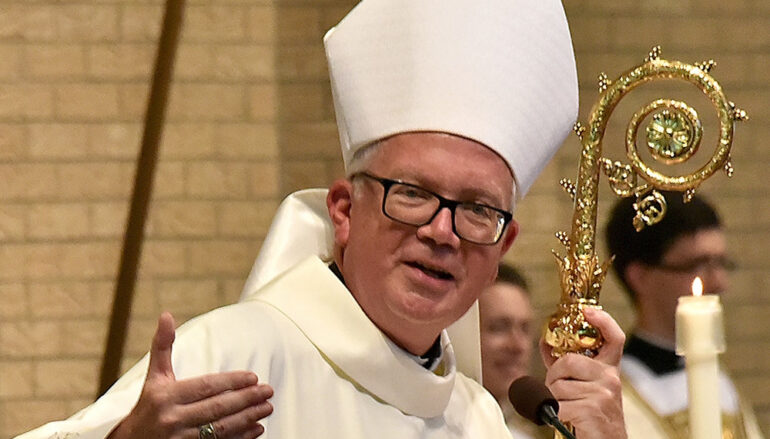 Bishop Hying is My Spiritual Dad
This past weekend, I had the great pleasure to speak at a men's conference in Tyler, Texas. Bishop Joseph Strickland asked me to come and speak at this conference in his diocese, and I was thrilled to meet this great shepherd. While I was there, I got to speak with Bishop Strickland, and I had a great sense of gratefulness come over me for his great love for God and the people he served.
It made me think about my own Bishop Donald Hying. In that moment, I had the same sense of gratefulness come over me. Both of these servants of God are, in my estimation, some of today's most incredibly loving spiritual fathers to those they serve.
While I was traveling home from Texas, I felt compelled to write about this, as soon as I returned. Before I had a chance to put my thoughts together, I was preparing for Mass this morning and, in God's astounding providence, I found the perfect scripture passage for writing about my bishop by way of today's first reading from St. Paul. Here is the pertinent portion of that reading:
For those who are led by the Spirit of God are sons of God.
For you did not receive a spirit of slavery to fall back into fear,
but you received a spirit of adoption,
through which we cry, "Abba, Father!"
The Spirit himself bears witness with our spirit
that we are children of God,
and if children, then heirs,
heirs of God and joint heirs with Christ,
if only we suffer with him
so that we may also be glorified with him. (Romas 8:14-17)
This has always been one of my favorite readings as it points to our "true" relationship with God. We are children of God who cry out, "Abba, Father!" Translated from the Aramaic language, "Abba" is an intimate term for "Father." In other words, God is not our boss or our General, He is our "Father." But, more than that, He is a perfectly loving Father.
For years, I translated "Abba" to mean, "Daddy," when considering applying it to our culture's understanding of an intimate term for "Father." Over the years, my understanding evolved into something more like, "Dad." What's the difference? "Daddy" is a word more commonly associate with an infant's term for "Father." Once we reach a certain level of maturity, the intimate term becomes "Dad." Here's what I mean by that.
As I said, God is a perfectly loving Father. We get a taste of what that perfection is all about through the good fathers in our lives. I had an amazing dad. He was full of life and he celebrated life … and wanted us to live that way as well. In other words, he cultivated in his children a spirit of gratefulness. Gratefulness for everything: creation, family, friends, holidays, our country …. EVERYTHING. Most especially, we were formed bu my dad to have a deep gratefulness for God and our fellow children of God.
My dad loved … I mean a real love which, to me, means he put everyone ahead of himself. This also meant that my dad wanted us to discover this selfless and loving life for ourselves. While almost all of our life with my dad was lived in this tender and affectionate mode, dad was strict and tough – very clear – when he saw us heading in a direction that deviated from his desire to see us live that selfless and loving life, filled with character, morals and principals. I believe my dad gave me a big taste of how our God – Abba, Father – relates to us.
You see? That's why my heart was filled with gratefulness for the father or, better yet, "Dad" our Bishop Donald Hying is for all of us … his children.
In the days leading up to my trip to Texas, Bishop Hying came to our community for a protocol meeting with us priests to discuss how things are going with the new diocesan-wide restructuring, entitled, "Into the Deep." And then, just a few days later, Bishop was back here for Confirmation.
Just prior to Confirmation, I hosted a dinner for Bishop Hying and the three priests I serve with here in Janesville. The protocol meeting and the dinner were both super positive, and it felt like that same "full of life and celebrate everything" atmosphere I saw in my dad, and have come to experience with "Abba, Father."
I think we all knew we are facing some severely challenging times at this moment in history. Certainly, Covid and domestic terrorism seemed to accelerate the challenge. I theorize that an evil eruption exploded and evil advanced in the world in October of 2019, which is shortly after Bishop Hying came to our diocese.
For love of his children – which is all of us living in his diocese – Bishop Hying made the very difficult decision to take a robust approach to do "what is best for us" (Here, again, I am referring to "Into the Deep"). That's what a truly loving father does. It's not an impersonal and minimalistic approach of a bad father. No! Bishop Hying stepped up, like a GREAT FATHER, and asked us to "suffer with him" (to quote St. Paul's reading above) so that we all strive to be the best we can possibly be. Sure, "Into the Deep" is challenging. Well, so are football practices and military training and fitness training. My hero, Coach Vince Lombardi, once said,"Perfection is not attainable. But if we chase perfection, we can catch excellence." Great coaches press their players to track in this way, and so do great dads, especially our "Perfect Dad" in heaven. For Bishop Hying's family (the souls in the Diocese of Madison), "Into the Deep" is exactly what is needed at this time. This great dad wants what is best for his children.
And, just as Bishop Hying models, I too have been using new media to teach and pray with souls. Bishop understands, as I do, that it cannot be only the enemies of God who use this modern high-speed tool to persuade souls. In these historically challenging times, evil seems to be advancing at breakneck speed. Yes, we must fight back, but we need to outsmart the devil … we need to be strategic. Bishop Hying has been advising me in that area, and I greatly appreciate it. I have done my very best to follow the orders of this truly loving "dad," who wants the best for me and all of his children.
Thank you, Bishop, for helping us to celebrate life in gratefulness! Thank you, Bishop, for pressing us to chase perfection snd catch excellence! Thank you, Bishop, for being the very best spiritual dad!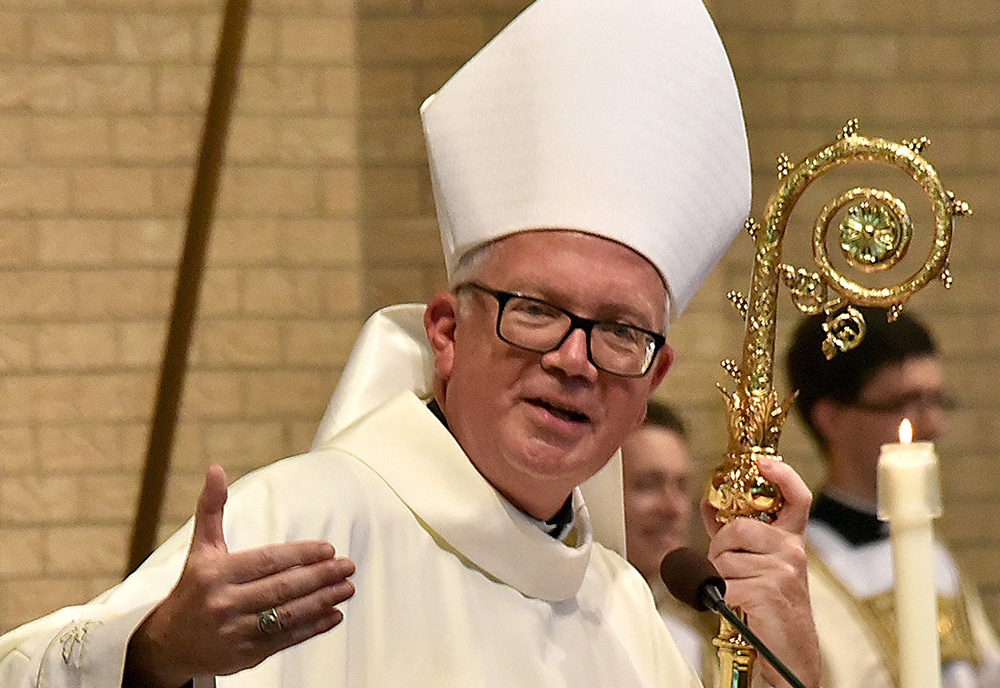 Related Articles
Read more from USGF Prayer Campaigns