Day 44 – Heavenly Christmas Novena
by Fr Richard Heilman | December 14, 2022 12:05 AM
DAY 44 – MARY, QUEEN OF ALL SAINTS, PRAY FOR US
CHURCH MILITANT BOOT CAMP
In the military, boot camp (or, basic training) trains soldiers for combat by instilling discipline and an unbreakable bond. When their training is complete, soldiers act more as a sacrificing, corporate body and less as self-concerned individuals. Here we will learn how to become diligent members of the Church Militant and how absolutely essential it is to move in concert with the Communion of Saints.
LET'S ROLL!!
Today, ask yourself …
Heart: Did I pray for others today? (Holy Soul in Purgatory, Soul in need)
Soul: Did I meet my "prayer-life plan" goals?
Mind: Did I spend some time with spiritual reading?  A recommended option for daily spiritual reading is the brief reflections I offer here daily (below) from my book, "Church Militant Field Manual: Special Forces Training for the Life in Christ[1]."
Strength: Did I meet my daily health & fitness goals?
TODAY'S SPIRITUAL READING: THE WARRIOR ETHOS
The Soldier's Creed of the United States Army states: "I am disciplined, physically and mentally tough, trained and proficient in my warrior tasks and drills." Former Navy SEAL Eric Greitens said: "One of the things that makes a warrior into a warrior is that they are dedicated to developing their strength in service to others."
Whether it's a Navy SEAL or a saint, we admire those who put it all on the line — go "all in!" — those who are totally dedicated to the mission. In the military, this dedication is revealed in the Warrior Ethos, four simple lines embedded in the Soldier's Creed:
I will always place the mission first.
I will never accept defeat.
I will never quit.
I will never leave a fallen comrade.
Sustained and developed through discipline, commitment, and pride, these four lines motivate every soldier to persevere and, ultimately, to refuse defeat. What would happen if we dedicated ourselves to the training and mission of Jesus Christ with the same intensity Eric Greitens and his comrades dedicated themselves to the "Warrior Ethos" and to their training to become Navy SEALs? What is keeping us from becoming, in essence, SEALS for Christ?
We must learn the special operations (special ops) techniques and procedures for search and rescue missions of fallen comrades (those who have become weak in their faith). Although rarely wielded by the Catholics today, this supernatural strength and these techniques are truly authentic gifts of the Church that are field-tested and battle-hardened. We must commit ourselves to their restoration if we ever hope to stem the tide of evil and rescue our lost loved ones who may be destined for eternal damnation. (Excerpt from Church Militant Field Manual[2]).
Give Spiritual Strength This Year
Christ has equipped us with weapons more splendid than gold, more resistant than steel, weapons more fiery than any flame and lighter than the slightest breeze … These are weapons of a totally new kind, for they have been forged for a previously unheard-of type of combat. -St. John Chrysostom
Seen below are among the few of many amazing tools to grow in spiritual strength at RomanCatholicGear.com[3].
Combat Rosary (Sterling Silver & 24k Gold)
Peace Through Strength Prayer Journal
Strength & Alliance Field Journal
Combat Rosary
Spiritual Go Bag
Spiritual Ammo Can Set
Go to RomanCatholicGear.com[3].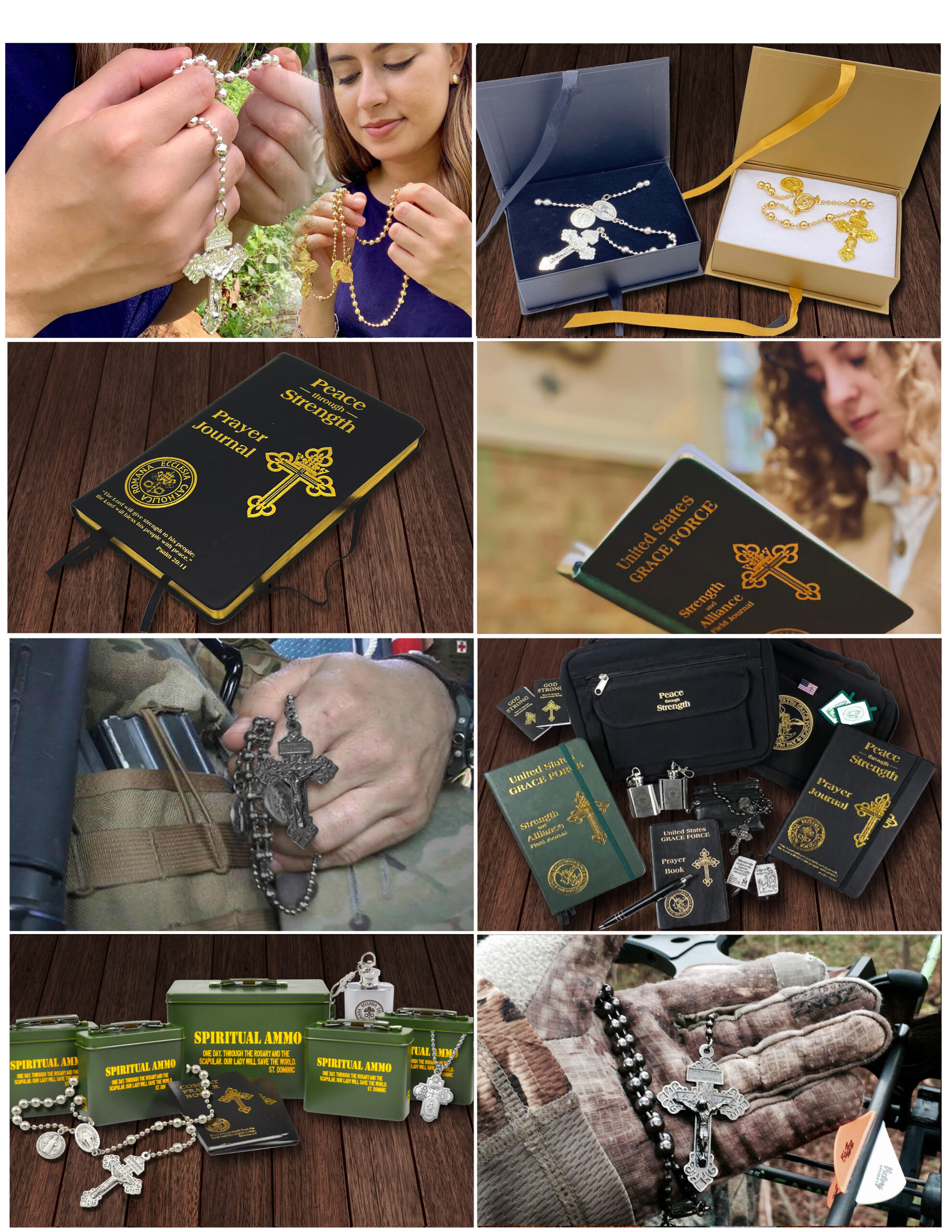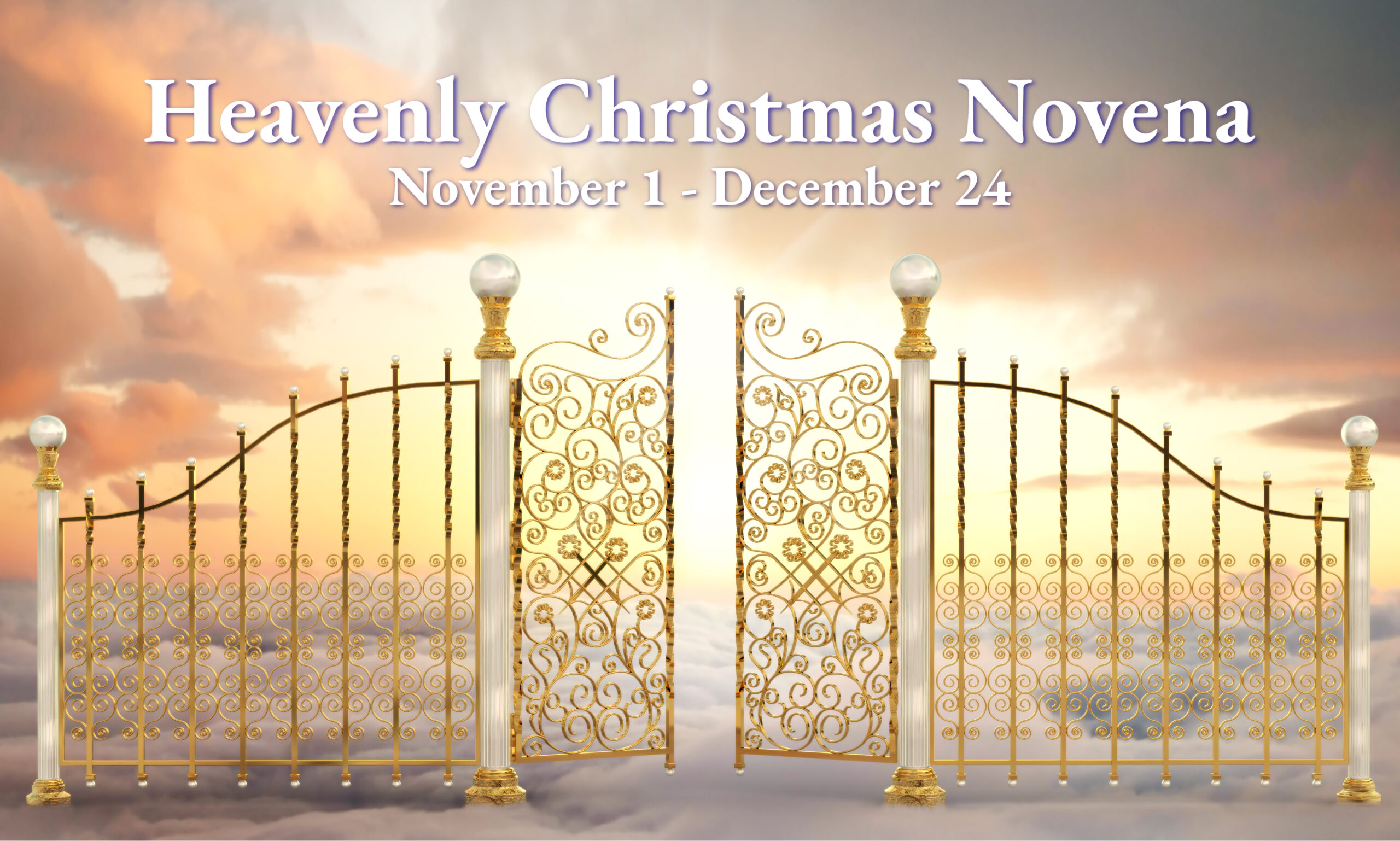 Endnotes:
Church Militant Field Manual: Special Forces Training for the Life in Christ: https://romancatholicgear.com/collections/books/products/church-militant-field-manual
Church Militant Field Manual: https://romancatholicgear.com/books-and-manuals/church-militant-field-manual.html
RomanCatholicGear.com: https://romancatholicgear.com
Source URL: https://usgraceforce.com/day-44-heavenly-christmas-novena/
---