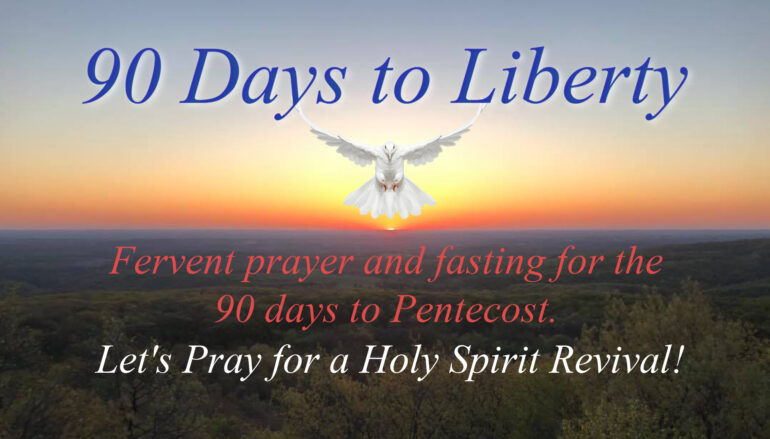 Day 83 – 90 Days to Liberty – Pentecost Novena, Day 2
Novena to the Seven Gifts Of The Holy Spirit
SECOND DAY 
Come. Father of the poor. Come, treasures which endure; Come, Light of all that live!
The Gift of Fear
The gift of Fear fills us with a sovereign respect for God, and makes us dread nothing so much as to offend Him by sin. It is a fear that arises, not from the thought of hell, but from sentiments of reverence and filial submission to our heavenly Father. It is the fear that is the beginning of wisdom, detaching us from worldly pleasures that could in any way separate us from God. "They that fear the Lord will prepare their hearts, and in His sight will sanctify their souls."
Prayer
Come, O blessed Spirit of Holy Fear, penetrate my inmost heart, that I may set you, my Lord and God, before my face forever, help me to shun all things that can offend You, and make me worthy to appear before the pure eyes of Your Divine Majesty in heaven, where You live and reign in the unity of the ever Blessed Trinity, God world without end. Amen.
Our Father and Hail Mary ONCE.
Glory be to the Father SEVEN TIMES.
Act of Consecration, Prayer for the Seven Gifts (below)
ACT OF CONSECRATION TO THE HOLY SPIRIT
On my knees I before the great multitude of heavenly witnesses I offer myself, soul and body to You, Eternal Spirit of God. I adore the brightness of Your purity, the unerring keenness of Your justice, and the might of Your love. You are the Strength and Light of my soul. In You I live and move and am. I desire never to grieve You by unfaithfulness to grace and I pray with all my heart to be kept from the smallest sin against You. Mercifully guard my every thought and grant that I may always watch for Your light, and listen to Your voice and follow Your gracious inspirations. I cling to You and give myself to You and ask You, by Your compassion, to watch over me in my weakness. Holding the pierced Feet of Jesus and looking at His Five Wounds, and trusting in His Precious Blood and adoring His opened Side and stricken Heart, I implore You, Adorable Spirit, Helper of my infirmity, to keep me in Your grace that I may never sin against You. Give me grace O Holy Spirit, Spirit of the Father and the Son to say to You always and everywhere, "Speak, Lord, for Your servant heareth." Amen.
PRAYER FOR THE SEVEN GIFTS OF THE HOLY SPIRIT
O Lord Jesus Christ Who, before ascending into heaven did promise to send the Holy Spirit to finish Your work in the souls of Your Apostles and Disciples, deign to grant the same Holy Spirit to me that He may perfect in my soul, the work of Your grace and Your love. Grant me the Spirit of Wisdom that I may despise the perishable things of this world and aspire only after the things that are eternal, the Spirit of Understanding to enlighten my mind with the light of Your divine truth, the Spirit on Counsel that I may ever choose the surest way of pleasing God and gaining heaven, the Spirit of Fortitude that I may bear my cross with You and that I may overcome with courage all the obstacles that oppose my salvation, the Spirit of Knowledge that I may know God and know myself and grow perfect in the science of the Saints, the Spirit of Piety that I may find the service of God sweet and amiable, and the Spirit of Fear that I may be filled with a loving reverence toward God and may dread in any way to displease Him. Mark me, dear Lord with the sign of Your true disciples, and animate me in all things with Your Spirit. Amen.
Our Daily Prayer for Liberty and for a Holy Spirit Revival 
"Free us from every force of oppression, both internally and externally. Grant to our leaders the wisdom to protect and promote our liberties; by your grace may we have the courage to defend them, for ourselves and for all those who live in this blessed land. Heavenly Father, grant a Holy Spirit Revival in our land!" (Based on a prayer by the USCCB)
OIL – OBEDIENCE IN LOVE
How then are we to prepare our restless hearts to receive the power of the Holy Spirit? Recall Jesus' parable of the ten virgins (Mt 25:1-12), five of whom were wise and five of whom were foolish. When the time came to meet the Bridegroom and go in to join the festivities, the foolish ones did not have enough oil for their lamps. They were forced to go get more oil while everyone else went in to "join the dance."
Why has study after study shown that people of religious conviction are the happiest? For those who have yielded to a deeply devoted (semper fi) love relationship with Jesus, there is a distinctive serenity and joy about them. There seems to be an extra spring in their step and twinkle in their eye. Far from the boredom and misery of sloth, they radiate a supernatural love, joy, peace, patience, kindness, goodness, generosity, and gentleness (Fruit of the Holy Spirit, Gal 5:22-23). They are attracted to spiritual things. They have a resolve to lighten the burdens of others. They have a sense of purpose and mission. They seem to have discovered the way to "join the dance" of life.
In the meantime, like the five foolish virgins, there are those who seem to be "on the outside looking in," wondering what it takes to be invited to "the dance of life."
Now, the Holy Spirit is often depicted as fire. Jesus said, "I have come to cast fire on the earth, and how I wish it were already kindled" (Lk 12:49).
So, what is the fuel we offer for the Holy Spirit's fire? The word "oil" provides a superb acronym to describe the necessary fuel for receiving the fire of the Holy Spirit: O.I.L. = Obedience In Love. Blessed Charles de Foucauld called obedience the "yardstick of love." It's a clear way we measure the fidelity and unselfishness of our hearts. Jesus said that his yoke is easy and his burden light (Mt 11:28-30) not because he would ask less of us, but because he knew that love renders suffering bearable and even joyful. St. Ignatius of Loyola said, "It is not hard to obey when we love the one whom we obey." (Excerpt from Church Militant Field Manual).
You can enlist in the United States Grace Force HERE (please recruit family and friends!)
Information on the United States Grace Force can be found HERE
We highly recommend ordering the book "Let Freedom Ring" authored by Fr. Bill Peckman, Fr. James Altman and Fr. Rick Heilman. This amazing book will be a great tool for easy access, highlighting and bookmarking as you traverse through the first 40-days of our 90 Days to Liberty journey with tens of thousands of other special forces prayer warriors!
You can order the book at RomanCatholicGear.com.
You may want to consider using the Hallow App for Lent: Hallow.com
GET YOUR PEACE THROUGH STRENGTH PRAYER JOURNAL …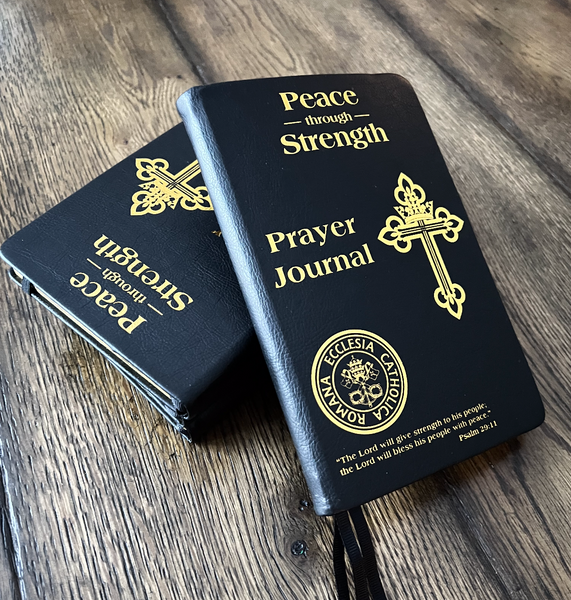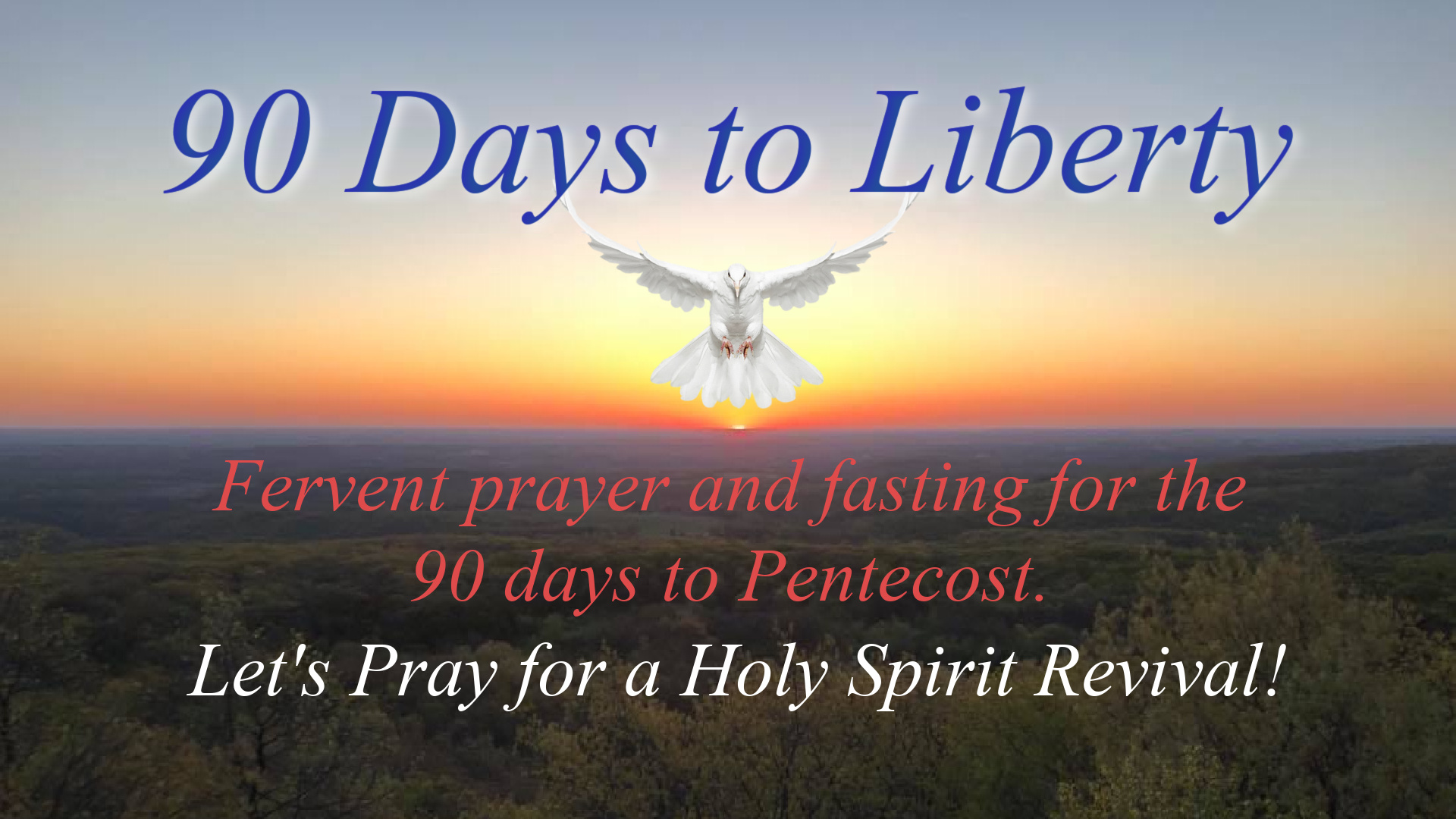 Related Articles
Read more from Latest Posts