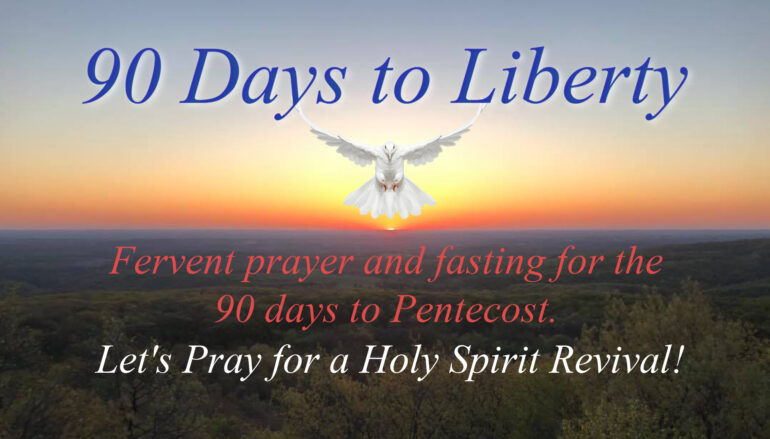 Day 87 – 90 Days to Liberty – Pentecost Novena, Day 6
Novena to the Seven Gifts Of The Holy Spirit
SIXTH DAY
If Thou take Thy grace away, nothing pure in man will stay, All his good is turn'd to ill.
The Gift of Understanding
Understanding, as a gift of the Holy Spirit, helps us to grasp the meaning of the truths of our holy religion BY faith we know them, but by Understanding we learn to appreciate and relish them. It enables us to penetrate the inner meaning of revealed truths and through them to be quickened to newness of life. Our faith ceases to be sterile and inactive, but inspires a mode of life that bears eloquent testimony to the faith that is in us; we begin to "walk worthy of God in all things pleasing, and increasing in the knowledge of God."
Prayer
Come, O Spirit of Understanding, and enlighten our minds, that we may know and believe all the mysteries of salvation; and may merit at last to see the eternal light in Thy Light; and in the light of glory to have a clear vision of Thee and the Father and the Son. Amen.
Our Father and Hail Mary ONCE.
Glory be to the Father SEVEN TIMES.
Act of Consecration, Prayer for the Seven Gifts (below)
ACT OF CONSECRATION TO THE HOLY SPIRIT
On my knees I before the great multitude of heavenly witnesses I offer myself, soul and body to You, Eternal Spirit of God. I adore the brightness of Your purity, the unerring keenness of Your justice, and the might of Your love. You are the Strength and Light of my soul. In You I live and move and am. I desire never to grieve You by unfaithfulness to grace and I pray with all my heart to be kept from the smallest sin against You. Mercifully guard my every thought and grant that I may always watch for Your light, and listen to Your voice and follow Your gracious inspirations. I cling to You and give myself to You and ask You, by Your compassion, to watch over me in my weakness. Holding the pierced Feet of Jesus and looking at His Five Wounds, and trusting in His Precious Blood and adoring His opened Side and stricken Heart, I implore You, Adorable Spirit, Helper of my infirmity, to keep me in Your grace that I may never sin against You. Give me grace O Holy Spirit, Spirit of the Father and the Son to say to You always and everywhere, "Speak, Lord, for Your servant heareth." Amen.
PRAYER FOR THE SEVEN GIFTS OF THE HOLY SPIRIT
O Lord Jesus Christ Who, before ascending into heaven did promise to send the Holy Spirit to finish Your work in the souls of Your Apostles and Disciples, deign to grant the same Holy Spirit to me that He may perfect in my soul, the work of Your grace and Your love. Grant me the Spirit of Wisdom that I may despise the perishable things of this world and aspire only after the things that are eternal, the Spirit of Understanding to enlighten my mind with the light of Your divine truth, the Spirit on Counsel that I may ever choose the surest way of pleasing God and gaining heaven, the Spirit of Fortitude that I may bear my cross with You and that I may overcome with courage all the obstacles that oppose my salvation, the Spirit of Knowledge that I may know God and know myself and grow perfect in the science of the Saints, the Spirit of Piety that I may find the service of God sweet and amiable, and the Spirit of Fear that I may be filled with a loving reverence toward God and may dread in any way to displease Him. Mark me, dear Lord with the sign of Your true disciples, and animate me in all things with Your Spirit. Amen.
Our Daily Prayer for Liberty and for a Holy Spirit Revival 
"Free us from every force of oppression, both internally and externally. Grant to our leaders the wisdom to protect and promote our liberties; by your grace may we have the courage to defend them, for ourselves and for all those who live in this blessed land. Heavenly Father, grant a Holy Spirit Revival in our land!" (Based on a prayer by the USCCB)
BORN FOR COMBAT
Prophet: Bishop Robert Barron says, "A prophet is someone who speaks for God. Their task is to speak God's word, in season and out (whether that word is popular or not). It means you should be a reader of theology and spirituality that you might, as St. Peter put it, 'give a reason for the hope that is in you.' We're living in a time when religion is under attack. If someone challenged you, could you give a reason for the hope that is in you?"
For Pope Leo XIII, to be a prophet means we are "born for combat": "To recoil before an enemy, or to keep silence when from all sides such clamors are raised against truth, is the part of a man either devoid of character or who entertains doubt as to the truth of what he professes to believe. The only ones who win when Christians stay quiet" he says, "are the enemies of truth. The silence of Catholics is particularly disturbing because frequently a few bold words would have vanquished the false ideas." "Christians are," Leo continues, "born for combat." It is part of their nature to follow Christ by espousing unpopular ideas and by defending the truth at great cost to themselves.
The element of surprise often catches us off-guard when faced with an opportunity to defend the faith from attacks or share why our faith is so important to us. Those moments often come and go rather quickly. These can be seen as "teaching moments" as they teach us to be better prepared the next time it happens. This is why it is essential for us to make the necessary preparations by developing short but impactful statements or quotes that really leave, in a brief moment, a spiritual mark on the recipients. In the public relations world, these are called talking points or, as Pope Leo XIII called them, "a few bold words." A talking point in debate or discourse is a succinct statement designed to persuasively support one side taken on an issue. Such statements can either be free standing or created as retorts to the opposition's talking points. Yes, you should study theology and spirituality, but like arrows in your quiver, you must have these talking points prepared and memorized, ready to fire (Excerpt from Church Militant Field Manual).
You can enlist in the United States Grace Force HERE (please recruit family and friends!)
Information on the United States Grace Force can be found HERE
We highly recommend ordering the book "Let Freedom Ring" authored by Fr. Bill Peckman, Fr. James Altman and Fr. Rick Heilman. This amazing book will be a great tool for easy access, highlighting and bookmarking as you traverse through the first 40-days of our 90 Days to Liberty journey with tens of thousands of other special forces prayer warriors!
You can order the book at RomanCatholicGear.com.
You may want to consider using the Hallow App for Lent: Hallow.com
GET YOUR PEACE THROUGH STRENGTH PRAYER JOURNAL …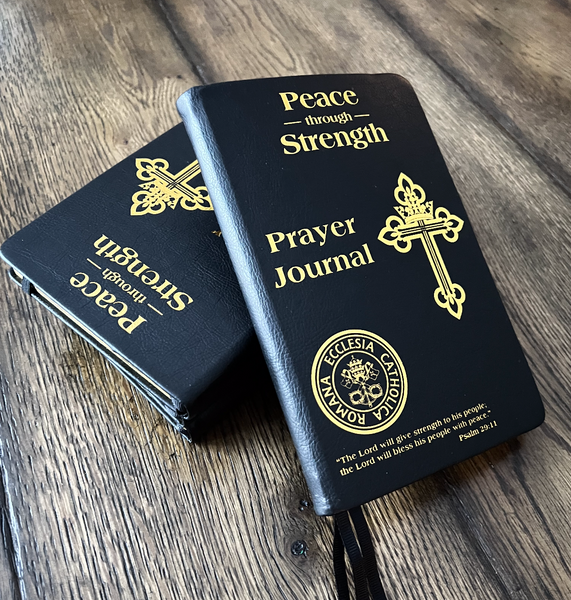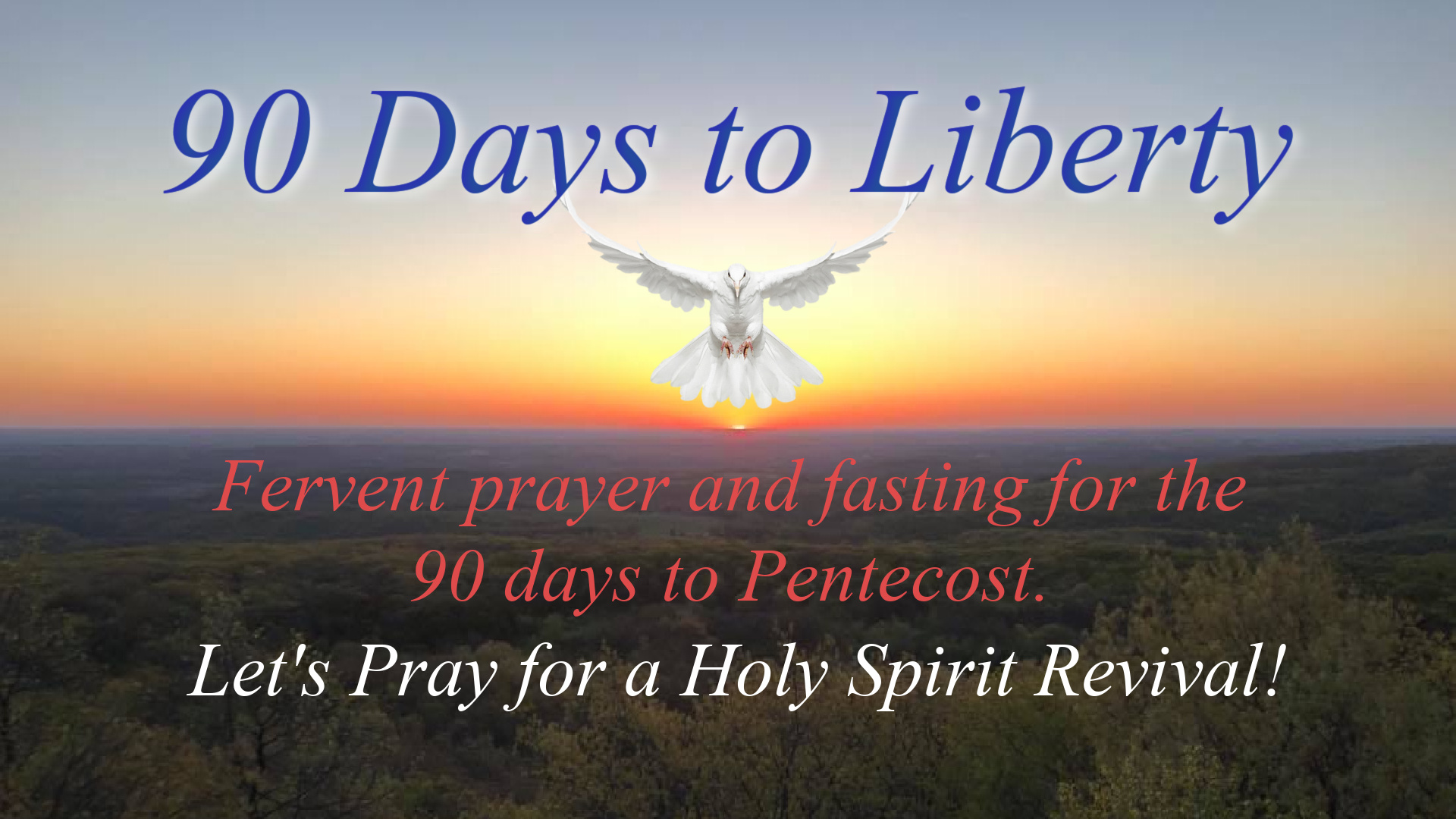 Related Articles
Read more from Announcements