Day 89 – 90 Days to Liberty – Pentecost Novena, Day 8
by Fr Richard Heilman | May 26, 2023 12:05 AM
Novena to the Seven Gifts Of The Holy Spirit
EIGHTH DAY
Bend the stubborn heart and will, melt the frozen warm the chill. Guide the steps that go astray!
The Gift of Wisdom
Embodying all the other gifts, as charity embraces all the other virtues, Wisdom is the most perfect of the gifts. Of wisdom it is written "all good things came to me with her, and innumerable riches through her hands." It is the gift of Wisdom that strengthens our faith, fortifies hope, perfects charity, and promotes the practice of virtue in the highest degree. Wisdom enlightens the mind to discern and relish things divine, in the appreciation of which earthly joys lose their savor, whilst the Cross of Christ yields a divine sweetness according to the words of the Saviour: "Take up thy cross and follow me, for my yoke is sweet and my burden light.
Prayer
Come, O Spirit of Wisdom, and reveal to my soul the mysteries of heavenly things, their exceeding greatness, power and beauty. Teach me to love them above and beyond all the passing joys and satisfactions of earth. Help me to attain them and possess them for ever. Amen.
Our Father and Hail Mary ONCE.
Glory be to the Father SEVEN TIMES.
Act of Consecration, Prayer for the Seven Gifts (below)
ACT OF CONSECRATION TO THE HOLY SPIRIT
On my knees I before the great multitude of heavenly witnesses I offer myself, soul and body to You, Eternal Spirit of God. I adore the brightness of Your purity, the unerring keenness of Your justice, and the might of Your love. You are the Strength and Light of my soul. In You I live and move and am. I desire never to grieve You by unfaithfulness to grace and I pray with all my heart to be kept from the smallest sin against You. Mercifully guard my every thought and grant that I may always watch for Your light, and listen to Your voice and follow Your gracious inspirations. I cling to You and give myself to You and ask You, by Your compassion, to watch over me in my weakness. Holding the pierced Feet of Jesus and looking at His Five Wounds, and trusting in His Precious Blood and adoring His opened Side and stricken Heart, I implore You, Adorable Spirit, Helper of my infirmity, to keep me in Your grace that I may never sin against You. Give me grace O Holy Spirit, Spirit of the Father and the Son to say to You always and everywhere, "Speak, Lord, for Your servant heareth." Amen.
PRAYER FOR THE SEVEN GIFTS OF THE HOLY SPIRIT
O Lord Jesus Christ Who, before ascending into heaven did promise to send the Holy Spirit to finish Your work in the souls of Your Apostles and Disciples, deign to grant the same Holy Spirit to me that He may perfect in my soul, the work of Your grace and Your love. Grant me the Spirit of Wisdom that I may despise the perishable things of this world and aspire only after the things that are eternal, the Spirit of Understanding to enlighten my mind with the light of Your divine truth, the Spirit on Counsel that I may ever choose the surest way of pleasing God and gaining heaven, the Spirit of Fortitude that I may bear my cross with You and that I may overcome with courage all the obstacles that oppose my salvation, the Spirit of Knowledge that I may know God and know myself and grow perfect in the science of the Saints, the Spirit of Piety that I may find the service of God sweet and amiable, and the Spirit of Fear that I may be filled with a loving reverence toward God and may dread in any way to displease Him. Mark me, dear Lord with the sign of Your true disciples, and animate me in all things with Your Spirit. Amen.
Our Daily Prayer for Liberty and for a Holy Spirit Revival 
"Free us from every force of oppression, both internally and externally. Grant to our leaders the wisdom to protect and promote our liberties; by your grace may we have the courage to defend them, for ourselves and for all those who live in this blessed land. Heavenly Father, grant a Holy Spirit Revival in our land!" (Based on a prayer by the USCCB)
LIVE A SUPERNATURAL LIFE
Surveys by Gallup, the National Opinion Research Center, and the Pew Organization conclude that spiritually committed people are twice as likely to report being "very happy" than the least religiously committed people. Secular analysts seem to be doing back flips trying to explain away the simple reality that there is no other authentic and fulfilling way to live other than a supernatural life.
St. Paul writes, "The unspiritual man does not receive the gifts of the Spirit of God, for they are foolishness to him, and he is not able to understand them because they are spiritually discerned" (1 Cor 2:14). This is the person who acts only by using his or her human faculties (intelligence and will) and who therefore can be wise only in the things of the world. He remains superficial and worldly. This is a heart that has hardened to the presence of God. The prophet Jeremiah writes "Cursed is the man who trusts in human beings, who seeks his strength in flesh, whose heart turns away from the Lord. He is like a barren bush in the desert that enjoys no change of season, but stands in a lava waste, a salt land and empty earth" (Jer 17:5-6).
However, throughout the Bible (e.g., Ps 1, Jer 17, Rev 22) we are told that the blessed ones are those who trust God and his ordinances; they are like trees planted beside streams of water. These trees are full of life (their leaves stay green) and they fulfill their purpose (produce fruit) even in the face of life's challenges. The commentary on 1 Corinthians in the Navarre Bible states, "The spiritual man is the Christian reborn by the grace of God; grace elevates his faculties to enable him to perform actions which have a supernatural value — acts of faith, hope, and charity. A person who is in the state of grace is able to perceive the things of God, because he carries with him the Spirit in his soul in grace, and he has Christ's mind, Christ's attitude. 'We have no alternative,' St. Josemaria Escriva teaches, 'there are only two possible ways of living on this earth: either we live a supernatural life, or we live an animal life. And you and I can only live the life of God, a supernatural life' (Friends of God)." (Excerpt from Church Militant Field Manual[1]).
You can enlist in the United States Grace Force HERE[2] (please recruit family and friends!)
Information on the United States Grace Force can be found HERE[3]
We highly recommend ordering the book "Let Freedom Ring[4]" authored by Fr. Bill Peckman, Fr. James Altman and Fr. Rick Heilman. This amazing book will be a great tool for easy access, highlighting and bookmarking as you traverse through the first 40-days of our 90 Days to Liberty journey with tens of thousands of other special forces prayer warriors!
You can order the book at RomanCatholicGear.com[5].
You may want to consider using the Hallow App for Lent: Hallow.com[6]
GET YOUR PEACE THROUGH STRENGTH PRAYER JOURNAL …
HERE[7]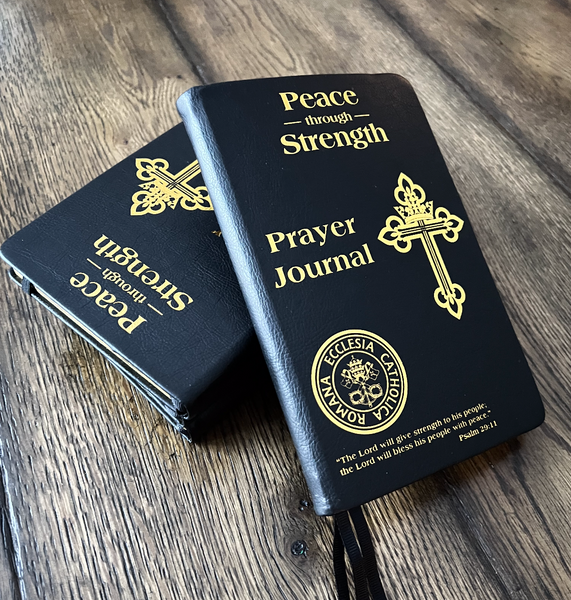 [8]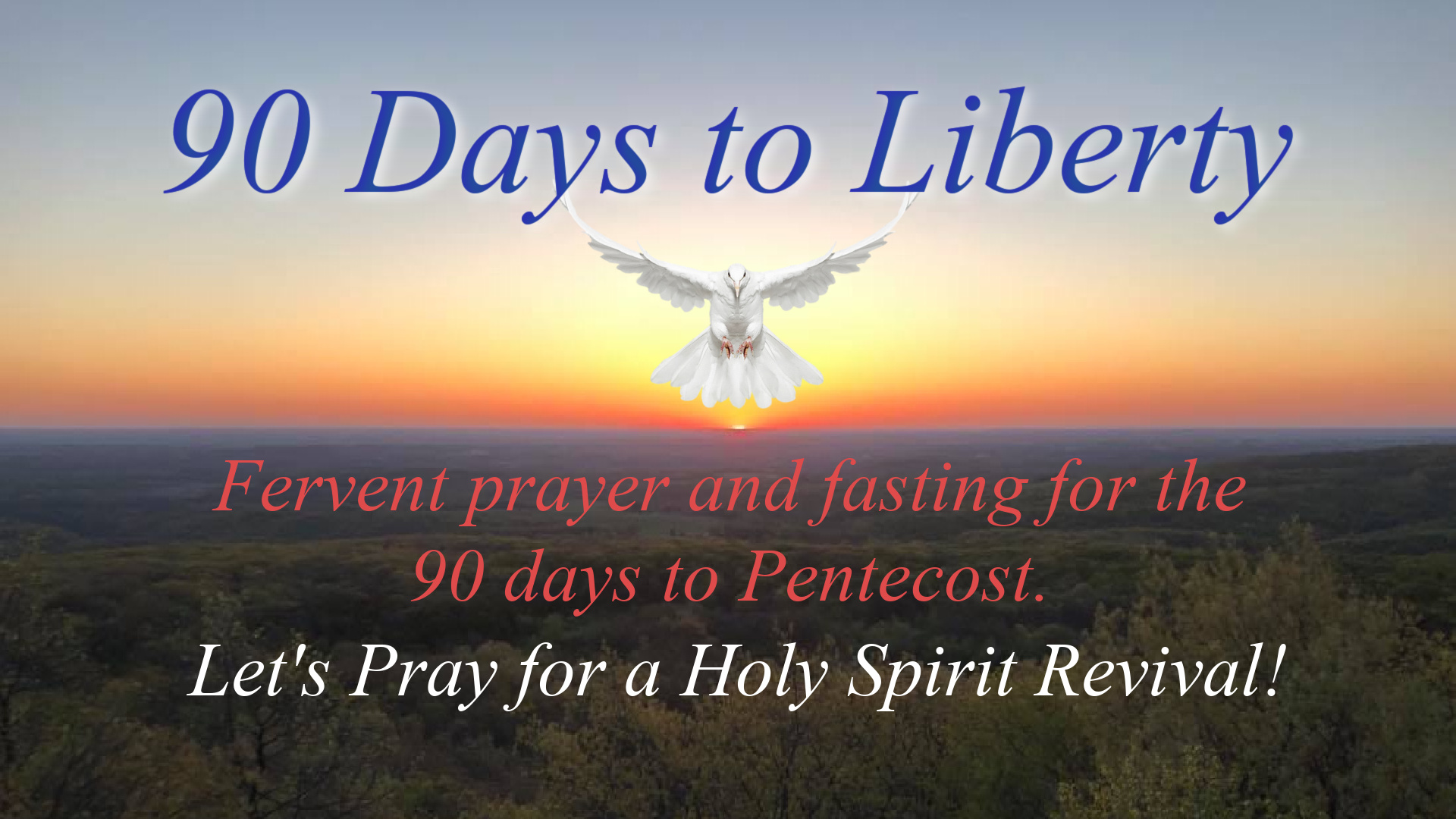 Endnotes:
Church Militant Field Manual: https://romancatholicgear.com/books-and-manuals/church-militant-field-manual.html
HERE: https://visitor.r20.constantcontact.com/manage/optin?v=001ESuSGaJpYPCG2iUdd4j4bkKwd4gkh2ZUVbam_Ty9rCn6blH6_U3cI2D8UvSLEcSzHnC4eq2UWmK1I0SbEw0SPKqnkZ2j0Z4J4D-_m4dD6CKJU9day-bBa8Qnx4dv7RLDIVlYAjL1JWsjfUTNPH2jQIVY9gbdbz4O4oMIzv5V1dT_upQsD8cX86iq_5Y-x4eLrTVtdOmA24s%3D
HERE: https://usgraceforce.com/god-wants-you-enlist-in-the-grace-force/
Let Freedom Ring: https://romancatholicgear.com/collections/books/products/let-freedom-ring-book
RomanCatholicGear.com: https://romancatholicgear.com/collections/grace-force
Hallow.com: https://hallow.com
HERE: https://romancatholicgear.com/collections/peace-through-strength-1
[Image]: https://romancatholicgear.com/collections/peace-through-strength-1
Source URL: https://usgraceforce.com/day-89-90-days-to-liberty-pentecost-novena-day-8/
---