Grace Force Podcast Episode 4, Sept. 04, 2019, The Devil
by Fr Richard Heilman | September 4, 2019 7:01 PM
Fr. Richard Heilman and co-host Doug Barry discuss the reality of the devil, the role of the Blessed Virgin Mary in combating evil, and the Four Last Things: death, judgment, Heaven and hell.
More from Fr. Richard Heilman
To follow more of Fr. Richard Heilman's teachings, subscribe to the podcast of his Sunday homilies on Apple Podcasts[1]or Google Play[2]Music, or browse through them on the St. Mary of Pine Bluff Catholic Church web site. Also follow Father's writings on the U.S. Grace Force and Roman Catholic Man web sites.
More from Doug Barry
Follow Doug on his YouTube channel and read more on the Battle Ready[3]web site.
U.S. Grace Force Gear
Official USGF gear can be purchased from the USGF Store,[4]includuing Combat Rosaries, prayer books, scapular medals, T-shirts, caps, holy water and blessed salt flasks, and the Peace Through Strength Challenge Coin. Check out the USGF collection, powered by Roman Catholic Gear.
Subscribe to the Grace Force Podcast on YouTube[5]
Listen to the podcast on Podbean[6]
Listen to the podcast on Spotify[7]
Listen to the podcast on Google Play Music[8]
Listen to the podcast on Stitcher[9]
Follow the podcast on Twitter[10]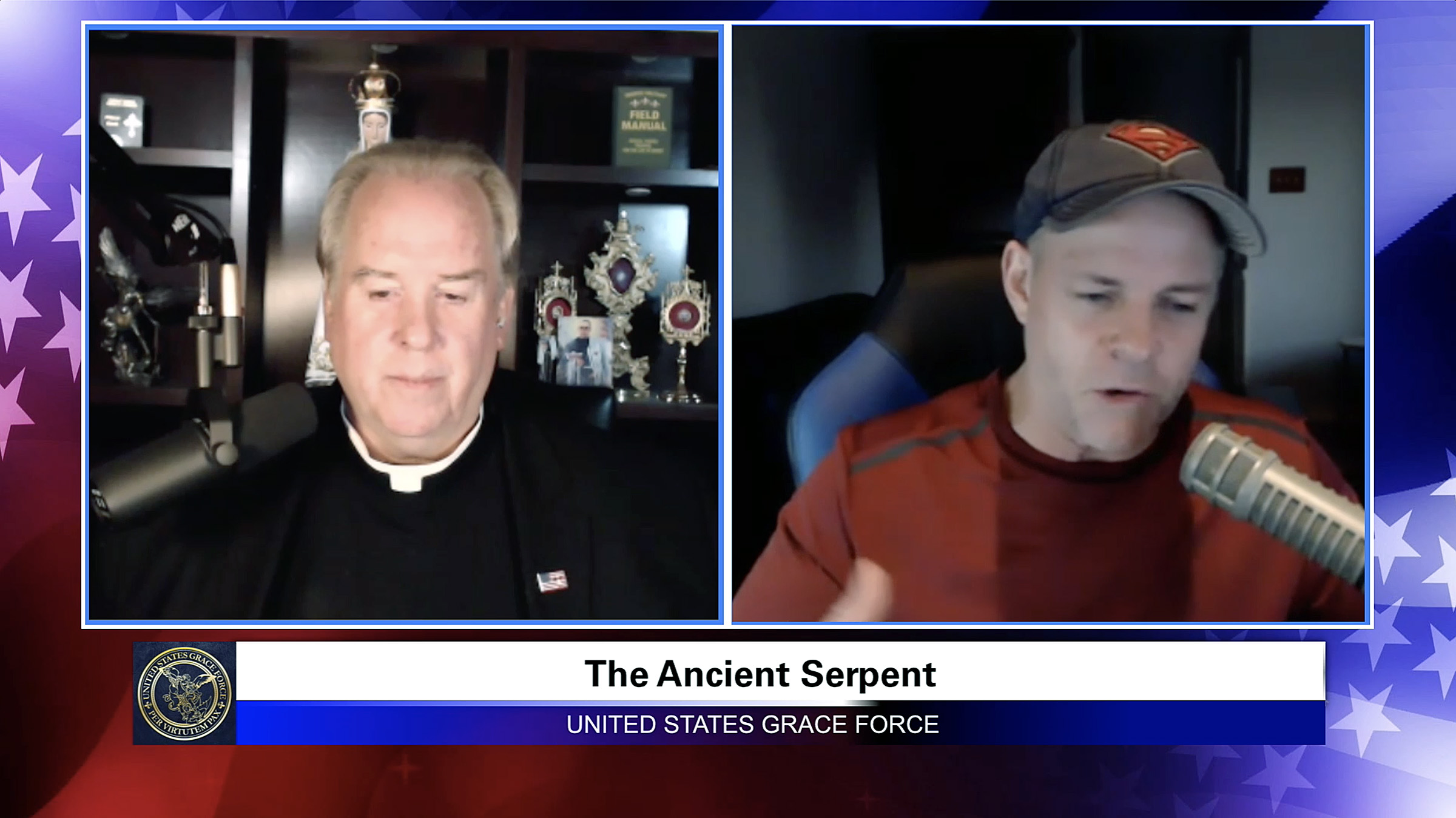 Endnotes:
Apple Podcasts: https://podcasts.apple.com/us/podcast/st-mary-of-pine-bluff-catholic-church-sermons/id1466674101
Google Play: https://play.google.com/music/podcasts/portal#p:id=playpodcast/series&a=1706577552
Battle Ready: https://www.battlereadystrong.com/
USGF Store,: https://romancatholicgear.com/collections/grace-force
Subscribe to the Grace Force Podcast on YouTube: https://www.youtube.com/channel/UCKZ9OefEJLEx1qYcBxgAFww/featured?view_as=public
Listen to the podcast on Podbean: https://usgraceforce.podbean.com/
Listen to the podcast on Spotify: https://open.spotify.com/show/2myG3daQZhphCpaREKQdmo?si=MQLVi3lmR1OebHBsSU08mQ
Listen to the podcast on Google Play Music: https://play.google.com/music/listen#/ps/Ik6pkgtyv6ep367uam53ywbxxpu
Listen to the podcast on Stitcher: https://www.stitcher.com/podcast/us-grace-force-with-fr-richard-heilman-and-doug-barry
Follow the podcast on Twitter: https://twitter.com/USGraceForce1
Source URL: https://usgraceforce.com/grace-force-podcast-episode-4-sept-04-2019-the-devil/
---