My Journey with Mary, and Why I Believe We Need More Mother Angelicas Today
by Fr Richard Heilman | September 8, 2020 4:18 AM
My Journey with Mary, and Why I Believe We Need More Mother Angelicas Today
I write this on the Birthday of the Virgin Mary. I cannot begin to express my concern of where this country and our Church are about to go if we do not see an IMMEDIATE RISE OF HEROISM. This is my journey. I write this to help you understand where I have been on this journey and how that speaks to why I believe we are at the precipice of our civilization as we know it. I do not accept a satanic "new normal." Nor should any of us. God will save us, if we choose to rise up and accept our call to be heroes, that may even lead to martyrdom.
Please write to express your appreciation of Fr. James Altman.
Bishop William Callahan
3710 East Ave S
PO Box 4004
La Crosse, Wisconsin 54602-4004
Email:  dbrannon@diolc.org
The Journey
May 13, 1981 – The attempted assassination of Pope John Paul II took place in St. Peter's Square in Vatican City. The Pope was struck four times and suffered severe blood loss, but somehow, the bullets missed lethal targets. By John Paul II's assessment, "It was a mother's hand that guided the bullet's path." The assassination attempt had taken place on the Feast of Our Lady of Fatima, and the pope had no doubt that his survival was due to the intervention of the Blessed Virgin Mary.
June 24, 1981 – Just a few weeks later, I celebrated my 23rd birthday (b. June 24, 1958, Feast of St. John the Baptist) in a life-changing way. After working hard in high school, and achieving All-State honors, my dream of becoming a Green Bay Packer was dashed by a career ending injury, in my first year of college (Summer of 1976). After five years of searching, and having spent recent months in silent reflection, a very sudden and very strong calling comes to enter seminary and become a priest. Literally, I emerged from my parents' basement (my bedroom, at the time) to give them this news. This came completely out of the blue for them … and for me. I had little or no thoughts of becoming a priest until that day. Yet, the call came so strong that I was not framing this as "thinking about becoming a priest," but, "I am going to become a priest."
June 24, 1981 – Many years later, I would hear of Our Lady's appearances in Medjugorje. And, it would not be until a few years ago that I made the connection that these appearances began on the day I received my very sudden and very strong call to become a priest. In all honesty, I remain open to these appearances, but have not rushed to make a mission trip to Medjugorje. I believe it is because, early in my priesthood, I went to a local parish who was hosting one of the seers from Medjugorje. After his talk, I recall him saying that he will now have an apparition of the Blessed Mother. We sat in silence, then, as we watched him look up in the air. I found it odd. However, the reason I remain open is because I have watched the multitude of conversions and vocations come from Medjugorje, including Fr. Donald Calloway.
August 15, 1981 – In this same year, the Eternal Word Television Network, more commonly known by its initialism EWTN, was founded by Mother Angelica.
Seminary in the 1980s – For major seminary, I attended Mundelein Seminary in the Archdiocese of Chicago. Cardinal Bernardin was the Chancellor of the seminary, at the time. Of course, at the time, I was oblivious to the "behind the scenes" nefarious activity in the Church. Also, I had nothing to gauge what was "normal" for seminaries, in the 1980s, as this seminary experience was all I knew. We simply accepted all of what went on as normal. So, not knowing any better, it was normal to have all of those with homosexual tendencies (and there were many) live on the same wing with each other, as they openly celebrated their homosexuality, and as they tried to convince the rest of us that we were homosexuals, but just didn't know that yet; it was normal that biblical studies spent a great deal of time refuting the medieval superstition of "miracles"; it was normal to have a chapel with chairs and no kneelers with the Blessed Sacrament out of sight; it was normal to have never been offered one minute of Adoration of the Blessed Sacrament in all of my seminary formation; it was normal to see seminarians dismissed from seminary and recommended for psychiatric treatment, as they were seen as fanatical for having a devotion to the Blessed Mother. And, of course, Cardinal Bernardin's 1983 "Seamless Garment" was all the rage, and would give permission for Catholics to put those in power who support the killing of babies, keeping this legal for decades to come. This "formation" was not something unique to Mundelein Seminary, as this was common in seminaries across America. It would only be after many years removed from those days in seminary that all of this would be recognized as "not normal" at all.
August 15, 1993 – It was apparent that the liberal bishops (e.g., Bernardin, McCarrick, Weakland, Mahoney, etc.) had full control of the Catholic Church in America. Pope John Paul II would do what he could to moor the ship to the two pillars of St. John Bosco (Holy Eucharist, Blessed Mother), but was met with much liberal resistance. It would not be until EWTN and Mother Angelica reached a pivotal moment and finally joined ranks with Pope John Paul II, along with all of EWTN's viewers, to become the army the pope needed.
During the 1993 World Youth Day, which was held on August 10-15 in Denver, Colorado, Mother Angelica hit a breaking point – a "last straw" – with the liberal bishops in America and their agenda. After a female mime played Our Lord in the living Stations of the Cross in front of an audience of thousands – including Pope John Paul II himself – Mother Angelica appeared on her daily show excoriating the liberal Church that had made such an outrage possible: "I am so tired of you, liberal Church in America," she said. "You do nothing but destroy. … Your whole purpose is to destroy … It's time somebody said something about all these tiny little cracks that you have been putting for the last 30 years into the Church," she continued. "You have no right to destroy people's faith … We're just tired of you constantly pushing anti-God, anti-Catholic and pagan ways into the Catholic Church."
In Catholic journalist and EWTN news director Raymond Arroyo's biography – Mother Angelica: The Remarkable Story of a Nun, Her Nerve, and a Network of Miracles[1] – Arroya writes:
"World Youth Day [1993] was the turning point for the network and for Mother," [EWTN producer] Chris Harrington opined. In that short half hour in Denver, Angelica had summoned an orthodox crusade, challenging those who felt disenfranchised and confused by the continuing changes within the Church to stand firm and to cede no further ground. The official response to Mother's outburst was swift. During a phone call on August 15, the president of the National Conference Bishops, Archbishop William Keeler, told Mother she had "overreacted." Days later he would urge EWTN to shelve the editorial and suspend reruns so as not to fan the flames of controversy. But the flames had already been fanned.

In a blistering editorial, Archbishop Rembert Weakland wrote that the "senseless and heartless condemning of one another" had to stop. He then proceeded to condemn Mother Angelica's "vitriolic" commentary: "For a half hour she ranted and raved about all the abuses since Vatican II, according to her own personal judgment which, of course, she equates with that of the Holy Father," Weakland wrote. "It was one of the most disgraceful, un-Christian, offensive, and divisive diatribes I have ever heard."

"He didn't think a woman playing Jesus was offensive," Mother said of Weakland's criticism. "He can go put his head in the back toilet as far as I am concerned." (pp. 243-244)

Though [Father Robert Bonnot, an official with the U.S. bishops' conference] didn't recollect the exact nature of the conversation, he told me, "If her stance was being selective about which bishops could be allowed to speak, I am quite confident that our stance and policy was: We see the bishops as entrusted with leadership in the Church and no bishop on principle should be excluded."

As the phone call continued, Mother Angelica got "louder and louder," according to her sisters. One by one, the nuns gravitated into the hall, listening to the conversation as if awaiting the final twist of a radio drama. Though Mother respected the office of the bishops, she could not bring herself in good conscience to relinquish her network to individuals or ideas opposed to the Magisterium — bishops or no.

"And who are you to decide which bishop should be aired?" Father Bonnot asked.

"I happen to own the network," Angelica responded curtly.

"Well, you won't always be there."

"I'll blow the damn thing up before you get your hands on it," Angelica shouted, as if speaking to the deaf. "I've chosen my Magisterium; you choose yours!" Slamming down the receiver, to the delight of her nuns, she terminated the conversation. (p. 211)
I contend that this day, August 15, 1993, the Catholic Church in America hit a pivotal moment in time, and began to moor itself, once again, to the two pillars of St. John Bosco: The Holy Eucharist and the Blessed Mother. By Christmas of 1993, Mother Angelica and her sisters were back in the traditional habit, and EWTN went on to be staunch allies with Pope John Paul II in being voice and example of Catholic orthodoxy.
September 25, 1993 – Just a few weeks after this pivotal shift in the Church in America, my mom passed away, unexpectedly. While my mom prayed a daily rosary, she never pushed for such things as a "family rosary." Being influenced by the liberal Church in America, I had not developed a relationship with the Blessed Mother. With my own mom gone, I was now looking for a mom, and EWTN – in league with Pope John Paul II – would play an enormous role in helping me collapse into the arms of the Blessed Mother. Like most Catholics in America, after Mother Angelica's shift toward greater orthodoxy, we were glued to EWTN throughout the remainder of the 1990s. This would be the period of time that would produce what we call: "John Paul II priests," as an enormous influx of vocations were produced by this "orthodoxy," or great love for "all things Catholic." Unlike the previous era, led by liberal bishops, that tried to whitewash all things that made us "uniquely Catholic."
February 2, 1998 – As my own Catholic orthodoxy began to develop, I met Fr. Alfred Kunz, who was well-known for his beautiful orthodoxy. I only had a couple of meetings with him before I left for a two-month sabbatical to study in Rome. Unfortunately, Fr. Kunz was murdered while I was away in Rome. I've asked Fr. Kunz to be a mighty prayer warrior for me, since then.
It was on February 2, 1998, that I had the experience of a lifetime, in more ways than one. It was a Papal Mass with Pope John Paul II, on the Feast of the Presentation. The priests studying received a beautiful engraved invitation, and we were thrilled to be going.
There we were in St. Peter's Basilica in Rome, about to pray with the Vicar of Christ. As Mass began, glorious "sacred" music filled the Basilica … and my soul. Of course, being a Papal Mass, there was great attention given to precision, which struck me as "beautiful order," much like a military honor guard. But, it was more than that. While I had always loved the Mass, I felt, maybe for the first time, that we were truly "glorifying" God. On that day, February 2, 1998, I was truly changed.
I realized we were, in this modern church, all but throwing out any sense of divinity; any sense of the supernatural. Where, in all of this, was any sense of awe and wonder in God's presence? Where was the sense of God's majesty?
Saint Francis of Assisi said, "Man should tremble, the world should quake, all Heaven should be deeply moved when the Son of God appears on the altar in the hands of the priest."
I've come to understand that we have (actually, I believe this is the work of the devil), by and large, removed the very gateway into the Divine Life. I happen to agree with Pope St. Gregory the Great who, wanting to capture the spiritual dynamism of the gifts of the Holy Spirit, posited the following order:
"Through the fear of the Lord, we rise to piety, from piety then to knowledge, from knowledge we derive strength, from strength counsel, with counsel we move toward understanding, and with intelligence toward wisdom and thus, by the sevenfold grace of the Spirit, there opens to us at the end of the ascent the entrance to the life of Heaven" ("Homiliae in Hiezechihelem Prophetam," II 7,7).
On that day, February 2, 1998, I realized my primary role as a priest was to do all I could to assist the faithful in receiving this first and most necessary gift of Fear of the Lord. I must help the faithful cry out, "My Lord and my God!" This is the "gateway gift" to all of the remaining gifts of the Holy Spirit.
April 19, 2005 – (Also, May 23, 2003) Bishop Morlino is made Bishop of Madison in 2003, followed by Pope Benedict XVI in 2005. Both are no friend to liberals, and both promote reverent offering of the Mass, as well as (as Morlino repeated regularly) the "truth with love." Upon Bishop Morlino's arrival in the Madison Diocese, there was only 5 men studying for the priesthood. Backed by the beautiful orthodoxy, and clarity of truth of Pope Benedict XVI, Bishop Morlino went to work to elevate Catholicism in our diocese to Truth, Beauty and Goodness, which ignited vocations across the diocese. Not too many years later, the Madison diocese had 33 men studying for priesthood, which was a number greater than most of the largest dioceses in America. Bishop Morlino was brutalized by liberal Catholics, who sought to silence his courageous truth-telling, throughout his episcopacy, all the way up until his untimely death on November 24, 2018.
August 5, 2019 – Whether this pope is a liberal is true or not, liberal Catholics felt emboldened by the pontificate of Pope Francis. This "weakening" of the Church, wrought by liberals, led to a shocking August 5, 2019 Pew Research Report that found a full 7 in 10 self-described Catholics do not believe in the Real Presence. 70% of Catholics believe the bread and wine used in Communion "are symbols of the body and blood of Jesus Christ." This while every indication has shown that the Catholic faith, along with an ardent belief in the Real Presence, is flourishing in those parishes that place a strong emphasis on orthodoxy – reverent Masses and clarity of truth. Concurrently, liberal churches (in all denominations) continue to close.
The hope was that this Pew Research study would be a wake-up call. Instead, emboldened liberal bishops doubled-down, in the lead up to the Amazon Synod. Instead of seeking reforms toward orthodoxy, the liberal calls ramped up to end celibacy for priests, ordain women, while efforts were made to normalize pagan worship in Catholic churches. Some, including Msgr. Charles Pope, warned that these atrocities could bring a chastisement. We must repent!
October 6, 2019, the Vigil of Our Lady of the Rosary – Sr. Agnes Sasagawa receives another message, which is the first since 1973. Our Lady's "Jonah like" message to Sr. Sasagawa was to "put on ashes and pray a repentant rosary."
October 6, 2019, Beginning of Amazon Synod – The Synod of Bishops for the Pan-Amazon region met in Rome from 6 to 27 October 2019. Historians will long remember the parading and worshipping of a pagan idol, only steps away from the bones of Peter, during this synod.
October 6, 2019, Possible Date of Covid-19 Event – Reports surfaced that there was no cellphone activity in a high-security portion of the Wuhan Institute of Virology from Oct. 7 through Oct. 24, 2019, indicating that there may have been a "hazardous event" on or about October 6.
So, here we are. A global pandemic. Add to this that we are in the midst of a critical election year, and many believe liberals are stoking fear to gain power. Moreover, liberals are encouraging riots and violence in the streets. Why? Because they are calculating that this chaos and division will, again, bring them to power.
In the meantime, virtually everyone is afraid to speak up. Liberals seemed to have "taken charge." This is what has happened, just recently, in my neck of the woods, but it is emblematic of what is going on everywhere in America: My friend recently had his car "keyed" because he had a pro-life bumper sticker; another friend had his house damaged for flying the "thin blue line" American flag that honors police; our downtown is boarded up and painted with graffiti as the mob's temper tantrums include violence, looting, tearing down statues and burning down businesses; in this election year, few dare to put a yard sign out or bumper sticker on their car of the candidate the liberals don't like, for fear of being assaulted; many will not associate themselves with the "wrong" candidate (in the eyes of the liberal) for fear of being assaulted, calumniated, or even fired from their job; a friend chose not to run for public office for fear that he and his family would be assaulted by the temper tantrum childish liberal mob; and on and on and on.
Much like the arrest of Jesus, ten of the twelve first bishops took off running in silent self-protection. At a critical point, when Jesus could have used the support of his Apostles, they fled. Just one remained with Him at the cross: John the Beloved. We need more John the Beloveds; more Mother Angelicas; more Fr. James Altmans.
In this most critical time, possibly in all of salvation history, I stand behind Fr. James Altman and, like Mother Angelica, his brutal honesty, even when it comes to the bishops. Do we just sit by and allow our flock to be taken control by the culture of death; culture of violence; culture of hedonism; culture of oppression? NO!
The time is now for ALL OF US, most especially priests and bishops, to refuse to allow Satan and his minions to seize control!! We are in dire need of more Mother Angelicas!!
"Let priests take care not to accept from the liberal any ideas which, under the mask of good, pretend to reconcile justice with iniquity. Liberal Catholics are wolves in sheep's clothing. The priest must unveil to the people their perfidious plot, their iniquitous design. You will be called Papist, clerical, retrograde, intolerant, but pay no heed to the derision and mockery of the wicked. Have courage; you must never yield, nor is there any need to yield. You must go into the attack whole-heartedly, not in secret but in public, not behind barred doors, but in the open, in the view of all." – Pope St. Pius X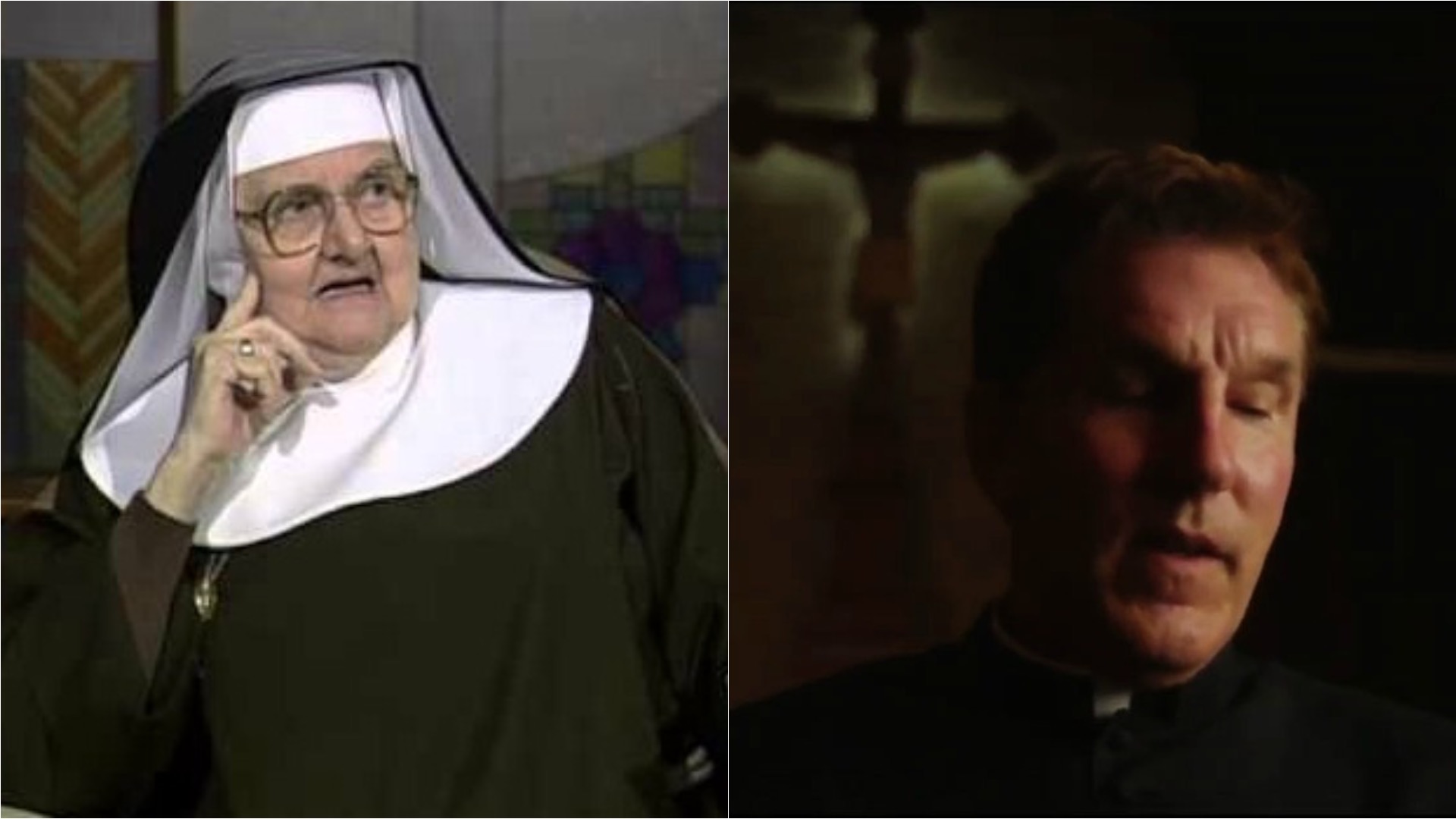 Endnotes:
Mother Angelica: The Remarkable Story of a Nun, Her Nerve, and a Network of Miracles: https://web.archive.org/web/20121101082456/http:/www.raymondarroyo.com/
Source URL: https://usgraceforce.com/my-journey-with-mary-and-why-i-believe-we-need-more-mother-angelicas-today/
---