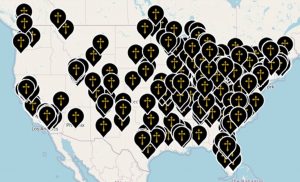 Rosary Coast to Coast – October 7
In addition to 2023 being the 8th annual 54 Day Rosary Novena for Our Nation[1], it is also the 8th year for the National Rosary Rally and the 6th year for Rosary Coast to Coast when we are called to look forward to taking our communal prayer into the public realm!
Many sense something is coming, and so it seems providential that this year the October 7th Memorial of Our Lady of the Rosary falls on a Saturday which is also the First Saturday of the month!  With the opportunity to gather in prayer on the actual feast day as well as to help fulfill Our Lady of Fatima's request to offer our prayer in reparation on first Saturdays, the National Rosary Rally will be held on Saturday October 7th at our nation's capitol.
Rosary Coast to Coast rallies are encouraged to also take place on Saturday October 7th.  We know that some rallies are planned for Sunday. Rallies held on Sunday October 8th should be considered in union with Rosary Coast to Coast as well. Resources are available to support both dates.
Organize and register Rosary Coast to Coast rallies at https://rosarycoasttocoast.com/[2].
Once again the rallies are encouraged to be in public places: along coasts and borders, at state capitols, in parks, on beaches, along busy streets as well as outside Churches and Shrines.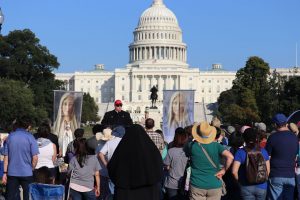 National Rosary Rally – October 7
Rosary Coast to Coast is anchored by the National Rosary Rally at the US Capitol in Washington DC!
The National Rosary Rally will start with the National Eucharistic Procession from St. Peter's on Capitol Hill.
This year for the first time the Men's March (https://themensmarch.com/[3]) will join the National Eucharistic Procession at the Supreme Court to the rally site at Union Square on Capitol Hill and will participate in the National Rosary Rally!
The National Rosary Rally will again lead Rosary Coast to Coast rallies across the nation in praying the Glorious Mysteries of the Rosary simultaneously at 4 pm Eastern, 3 pm Central, 2 pm Mountain, 1pm Pacific, noon Alaska, 10 am Hawaii!
Please consider joining us at our nation's capitol on Saturday October 7th!  Details can be found at https://rosarycoasttocoast.com/national-rosary-rally/[4].
There is much to pray for and to witness in public, prayerful, peaceful profession of our Catholic Faith!
Our prayer intention this year is:  MAY OUR CHURCH AND OUR COUNTRY FIND HOPE AS WE UNITE AT THE FOOT OF THE CROSS.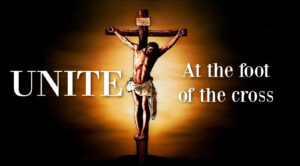 Called to Holiness & Spiritual Battle – Unite at the Foot of the Cross
We, the Church Militant on earth, are engaged in a spiritual battle of historic proportions!  We continue to live in peace-less times in conflict with God's laws and His natural law: denial of the humanity and human rights of the unborn; rebellion against God's creation of man and woman; attacks on marriage and family; intolerance towards and persecution of biblically-based religious belief and practice. We have long since passed the moral degradation of Sodom and Gomorrah.
In essence, we are living in a culture of death and of lies. To what are we as Christians called in response?  The Catechism of the Catholic Church states: "All are called to Holiness…The way of perfection passes by way of the Cross.  There is no holiness without renunciation and spiritual battle."
Rosary Coast to Coast and National Rosary Rally are not political rallies. We are praying for our nation to return to God and to Holiness through the peaceful, powerful, public profession of our Catholic Faith!
Are you in?!