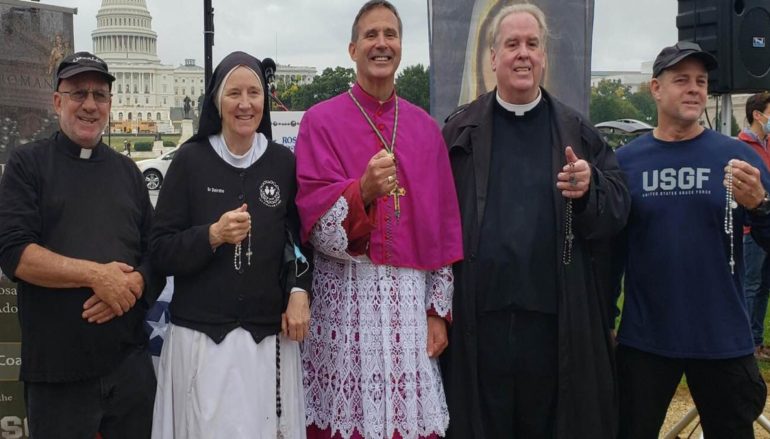 Rosary Coast to Coast – Are You In?!
Rosary Coast to Coast – October 9
As we enter the 3rd week of the 54 Day Rosary Novena for Our Nation, we are called to look forward to taking our communal prayer into the public realm!
The 2022 Rosary Coast to Coast will take place on Sunday, October 9th. Start organizing Rosary rallies and register them at http://rosarycoasttocoast.com/.  Once again the rallies are encouraged to be in public places:  along coasts and borders, at state capitols, in parks, on beaches, along busy streets as well as outside Churches and Shrines.  If you aren't able to organize a Rosary rally yourself, check the Rosary Coast to Coast website map as we approach October 9th to find a location near you.
National Rosary Rally – October 9
Rosary Coast to Coast will be anchored by the National Rosary Rally in front of the US Capitol in Washington DC preceded by the National Eucharistic Procession.  Plan to join together across the country in praying the Glorious Mysteries of the Rosary simultaneously at:  4 pm Eastern, 3 pm Central, 2 pm Mountain, 1 pm Pacific, noon Alaska, 10 am Hawaii.
Pray whether you are called to come to our nation's capitol on Sunday October 9th to join Bishop Joseph Coffey, Priests, Sister Superior of a missionary community and Catholic lay leaders along with other Catholic faithful at the National Rosary Rally.  Details can be found at http://rosarycoasttocoast.com/national-rosary-rally/.
International Week of Prayer & Fasting – October 1 – 9
For the very first time, the National Rosary Rally will conclude the October 1st – 9th International Week of Prayer & Fasting (https://iwopf.org/).  The IWOPF will begin October 1st with a day at the Basilica of the National Shrine of the Immaculate Conception in Washington DC.  On October 9th the National Rosary Rally will serve as the concluding event for IWOPF in front of our nation's capitol!
The intention for which we are praying together is:  For the Strength and Unity of Our Church; and for the Protection of the Family and Our Nation.
The Church Militant – Called to Holiness & Spiritual Battle
We, the Church Militant on earth, are engaged in a spiritual battle of historic proportions!  We continue to live in peace-less times in conflict with God's laws and His natural law: denial of the humanity and human rights of the unborn; rebellion against God's creation of man and woman; attacks on marriage and family; intolerance towards and persecution of biblically-based religious belief and practice. We have long since passed the moral degradation of Sodom and Gomorrah.
In essence, we are living in a culture of death and of lies.  To what are we as Christians called in response?  The Catechism of the Catholic Church states: "All are called to Holiness…The way of perfection passes by way of the Cross.  There is no holiness without renunciation and spiritual battle."
Rosary Coast to Coast and National Rosary Rally are not political rallies.  We are praying for our nation to return to God and to Holiness through the peaceful, powerful, public profession of our Catholic Faith!
Are you in?!
"I wholeheartedly endorse the Novena for Our Nation and the Rosary Rally… I urge as many as are able to participate in these great spiritual works for the sake of our entire nation."
Cardinal Raymond Burke
"May there arise a new movement of people who courageously will pray the Rosary in public places. May "Rosary Coast to Coast" bring to all citizens of the United States, to the people people with governmental responsibilities, to all faithful Catholics, to priests and bishops a spiritual grace-filled rain of roses."
Bishop Athanasius Schneider
"I am 100% supportive of the Rosary Coast to Coast movement! Our world is in major trouble and we need to turn to the prayer that Our Lady has most insistently asked us to pray in all of her recent approved apparitions: the holy rosary."
Fr. Donald Calloway
"If my people, who are called by my name, will humble themselves and pray and seek my face and turn from their wicked ways, then I will hear from heaven, and I will forgive their sin and will heal their land." – 2 Chronicles 7:14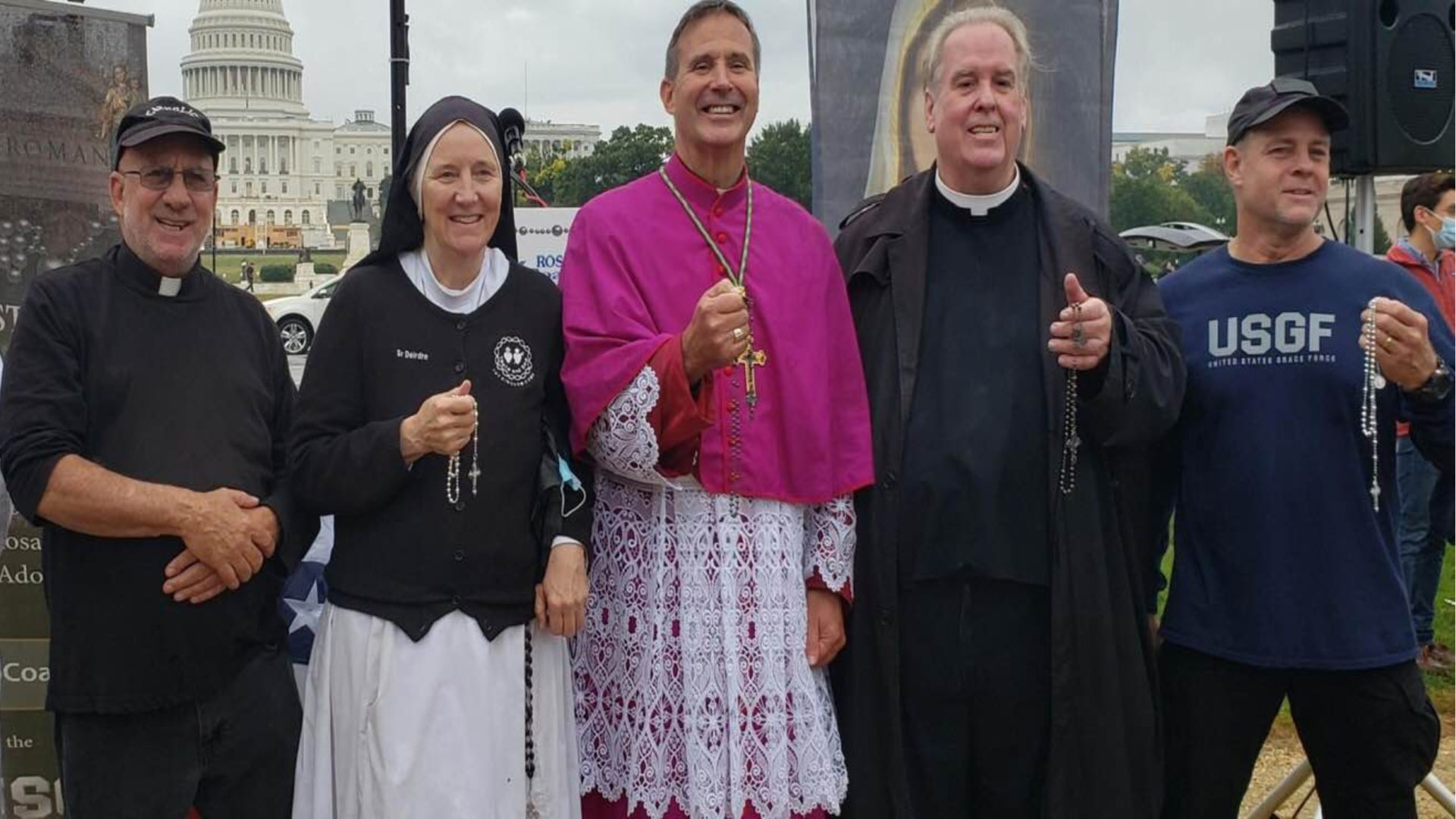 Related Articles
Read more from Latest Posts