Saving the USA = Unity, Strength, Action
by Fr Richard Heilman | May 23, 2021 8:29 PM
I was a one year old in my mom's arms, during Mass offered in the basement of a rectory. The year was 1959. This was the year our family was one among a handful of families who helped start St. Maria Goretti parish in Madison, WI.
This was a simpler time. A sweet innocence abounded. Being a strong Catholic, strong patriot, good neighbor and living a moral life was all a "given." Right vs. wrong was as clear as day. We were unified as a parish family, and we were unified in our love for God and country.
Yet, while we were riding our bikes and playing tag in the 1960s, evil was erupting all around us. The 1960s would forever be known as a revolutionary decade. This would be the decade that would revolt against everything held "sacred." Morals, values, virtues were all deemed out-of-date as a new and self-professed "evolved" generation blasted onto the scene.
"Do what thou wilt" is the high command in the Satanic bible, and this would be the golden rule of this quickly spreading nouveau "way of life." In psychological terms, it would be seen as an epidemic of narcissism. In theological terms, it is seen as the reemergence of the original sin of pride.
This anti-God eruption of evil brought anarchy, which is a state of disorder due to an absence or nonrecognition of authority. This revolt against any authority, including God, was seen as "liberation." Thus the name, "liberal." Order and unity were evaporating before our eyes as this very aggressive movement of narcissism sought to gain control.
Did our Church deploy a counter-offensive during this eruption of evil? Not so much. In many ways, she sat by and simply complied. Liberals have always been the most passionate and aggressive and, therefore, the liberals within the hierarchy would take control in the years following Vatican II. For example, priests were instructed to, in essence, push God off of His throne and replace Him with our new god: our conscience. In other words, if we "feel" something is moral, i.e., contraception, voting pro-abortion politicians into power … well, then, that is "Gospel" now.
In the meantime, the young narcissistic anarchists of the 1960s eventually grew up and came into power and influence. They became our teachers and judges and media and politicians. These would then go on to influence the generations that followed.
Evil is winning today because of decades of a multitude of weak and timid spiritual leaders who have simply allowed aggressive narcissists to steer the ship in our culture. It's gotten so bad that these cowardly spiritual leaders are accommodating the aggressive narcissists, and cancelling those who offend them. Evil is in charge!
I want my America back! And, I pray you do too.
Okay, so how do we save the USA?
I write this on the Feast of Pentecost. This is the day, more than any other, that we can confidently say, "With God all things are possible" (Matthew 19:26).
Drawing on the full power of the Holy Spirit is the only way to save the USA. In fact, the answer is found in the letters U, S and A. We cooperate best with the power of the Holy Spirit through our Unity, our Strength and our Action.
Unity
If Lucifer is the "Divider," the Holy Spirit is the "Uniter." In fact, The Holy Spirit is the bond of unity between the Father and the Son. We are called to take part in that "unity" with God and with each other.
Jesus made this prayer to His Father …
"My prayer is not for them alone. I pray also for those who will believe in me through their message, that all of them may be one, Father, just as you are in me and I am in you. May they also be in us so that the world may believe that you have sent me. I have given them the glory that you gave me, that they may be one as we are one — I in them and you in me—so that they may be brought to complete unity. Then the world will know that you sent me and have loved them even as you have loved me" (John 17:20-23).
Notice that Jesus makes the distinction that the rallying point for this unity is for "those who will believe in me" … those who "actually" believe in Jesus as evidenced by their loyalty to His Word. In other words, some may "profess" belief, but betray our Lord at every turn. These are the ones offended by the Word of God, and are willing to persecute those who teach the Truth with clarity. Today, if you hold these Truths that were considered commonplace 50 years ago, you are assaulted and marginalized as an extremist and fanatical.
Furthermore, we are replete with spiritual leaders who see "offending the world" as "being divisive," as if we are in direct contradiction to the image of Christ. Don't forget that, while Jesus prayed that "they may be one," He was also aware that the Truth would cause many to hate Him and us, and we would stand divided from them …
Jesus said, "I have come to bring fire on the earth, and how I wish it were already kindled!But I have a baptism to undergo, and what constraint I am under until it is completed! Do you think I came to bring peace on earth? No, I tell you, but division.From now on there will be five in one family divided against each other, three against two and two against three..." (Luke 12:49-53)
When the church began 2,000 years ago, many people divided against the truth. Many began giving their lives to Jesus, but were met with severe resistance from those who rejected the truth, and many were martyred by those who were offended by the truth.
Today, the cause of division comes from the unfortunate laxity of leadership that has permitted confusion and strife where there should be clarity and harmony, an authentic unity based on the truth. As a result, the modern trend among those who believe and teach falsehoods that directly contradict the Church's teaching is to consider these pockets of dissent as merely "differing tribes" within the Catholic Church. In this deceptive tribal system, those who believe in and teach all that the Church teaches are then considered extreme among these tribes (and most leaders see these devout and orthodox as dangerous and the cause of division).
Right or wrong, religious leadership seemed to calculate that it is better to refrain from "charged issues" for fear of offending some or even losing members (the leaders chose to make our churches "safe spaces"). However, St. Peter Canisius cautioned: "Better that only a few Catholics should be left, staunch and sincere in their religion, than that they should, remaining many, desire as it were to be in collusion with the Church's enemies and in conformity with the open foes of our faith."
Come what may, under the Power of the Holy Spirit, we all must unite in the truth, and stand with all those who are courageous in proclaiming the truth.
Strength
The U.S. Army ran a very effective "Army Strong" advertising campaign to recruit soldiers. The key message was: "There is strong, and then there is Army Strong." The commercial goes on to say, "It is a strength like none other. It is a physical strength. It is an emotional strength. It is strength of character. It is strength of purpose. The strength to do good today, and the strength to do well tomorrow. The strength to obey, and the strength to command. The strength to build, and the strength to tear down. The strength to get yourself over, and the strength to get over yourself."
These are warrior assets necessary to overcome the enemy. However, recall that our struggle is not against flesh and blood combatants, but against the much stronger and craftier spiritual forces of evil in the heavenly realm (Eph 6:11). This means it is not enough for you to possess the power of a warrior. You must discover what it means to be supernaturally empowered by God. You are to become not just Army Strong, but God Strong. You must know what it means to be in a state of grace. St. Ignatius of Loyola said, "Few souls understand what God would accomplish in them if they were to abandon themselves unreservedly to him and if they were to allow his grace to mold them accordingly."
Fr. John Hardon wrote: "St. Thomas Aquinas believed that man is more than a composite of body and soul, that his is nothing less than elevated to a supernatural order which participates, as far as a creature can, in the very nature of God. Accordingly, a person in the state of grace, or divine friendship, possesses certain enduring powers, the infused virtues and gifts, that raise him to an orbit of existence as far above nature as heaven is above earth, and that give him abilities of thought and operation that are literally born, not of the will of flesh nor of the will of man, but of God."
His delight is not in the strength of horses
nor his pleasure in warriors' strength.
The Lord delights in those who revere him,
who put their hope in his unfailing love. -Psalm 147:10-11
Action
On the 9th Day of the Pentecost Novena, we read:
The gifts of the Holy Spirit perfect the supernatural virtues by enabling us to practice them with greater docility to divine inspiration. As we grow in the knowledge and love of God under the direction of the Holy Spirit, our service becomes more sincere and generous, the practice of virtue more perfect. Such acts of virtue leave the heart filled with joy and consolation and are known as Fruits of the Holy Spirit. These Fruits in turn render the practice of virtue more attractive and become a powerful incentive for still greater efforts in the service of God.
When a soul is ignited by the Holy Spirit, there is a joy-filled eagerness to be "sent"; to embrace whatever missions God reveals, whether small or large. One suddenly taps into their raison d'être; the most important reason or purpose of one's existence. We were created to bring Christ out into the world; to be life and light and influencers in the world!
These Holy Spirit inspired missions extend beyond the "base missions" of marriage or priesthood or religious life. I received a beautiful taste of these "extended Holy Spirit inspired missions" by my parents. Yes, my parents had the duty to raise religious and patriotic children. But, it was all the ways our family embraced the missions beyond the home that gave us that sense that we were "actively" working to transform (influence) the world.
Call out to God … COME HOLY SPIRIT … and ignite in all of us a fire to seek UNITY, to grow in our SUPERNATURAL STRENGTH, and to accept all of the Holy Spirit inspired missions to be ACTIVE in the world.
THIS is how we will SAVE THE USA!!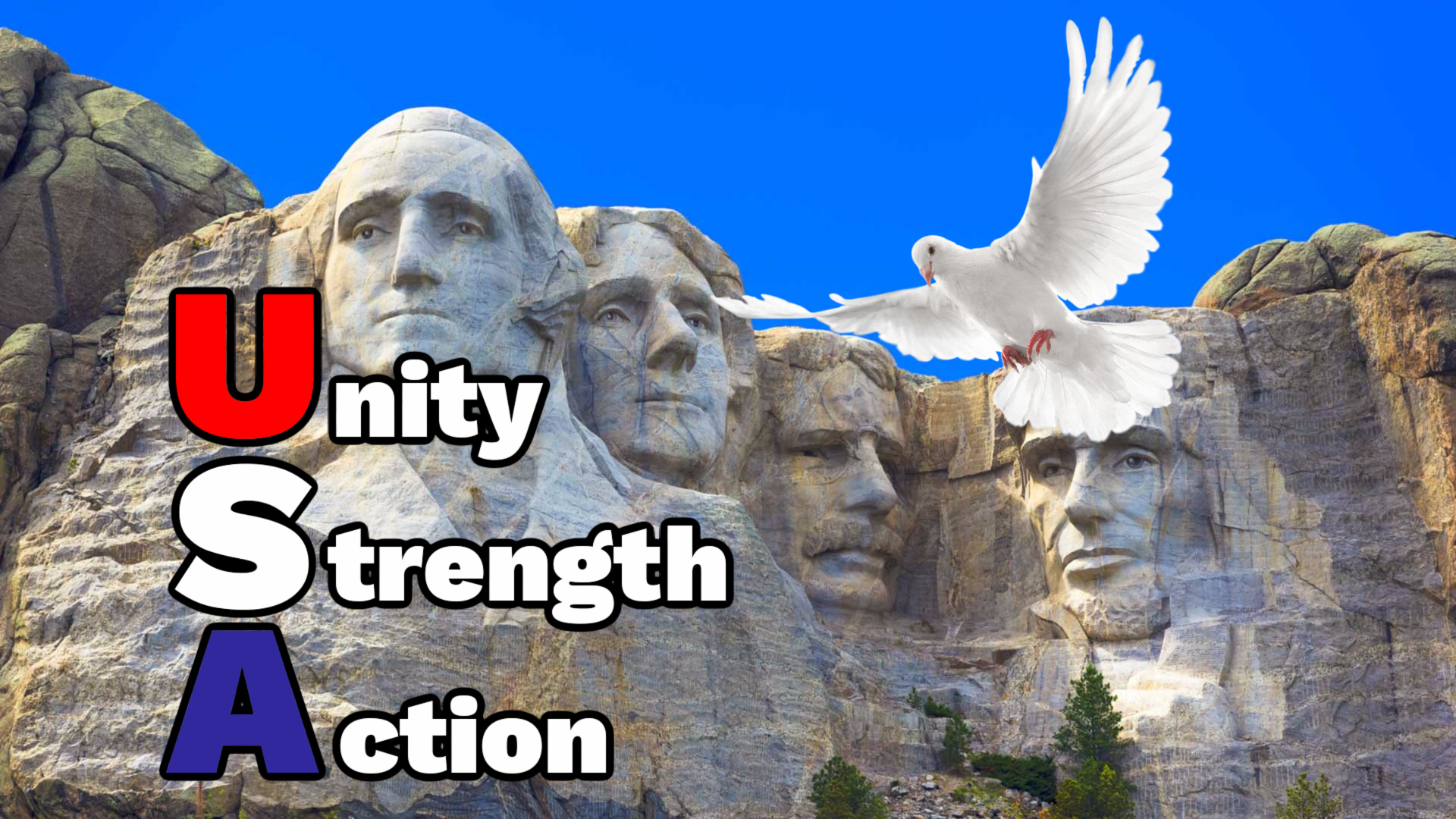 Source URL: https://usgraceforce.com/saving-the-usa-unity-strength-action/
---