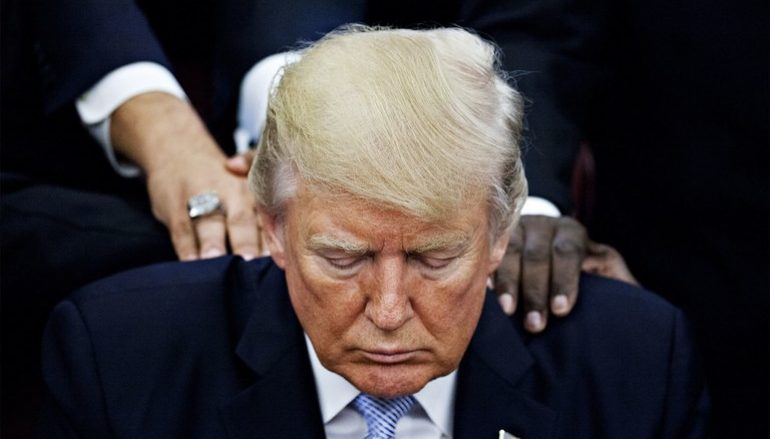 USGF Special Ops Mission: June 2, Pray with Christians, Nationwide, for the President
Evangelist Franklin Graham sent an email and posted a Facebook message to his social media followers over the past weekend, asking them to pray for President Donald Trump on June 2.
In his Facebook post, Graham wrote:
"Along with 250+ Christian leaders, I am asking followers of Christ across our nation to set aside next Sunday, June 2, as a special day of prayer for the President, Donald J. Trump. President Trump's enemies continue to try everything to destroy him, his family, and the presidency. In the history of our country, no president has been attacked as he has. I believe the only hope for him, and this nation, is God.

This is a critical time for America. We're on the edge of a precipice," Graham continued. "Time is short. We need to pray for God to intervene. We need to ask God to protect, strengthen, encourage, and guide the President. We know that God hears and answers prayer. He can soften hearts and change minds. He is all-powerful, and He rules over the affairs of nations. The Bible instructs us to pray for those in authority, 'that we may lead a quiet and peaceable life in all godliness and reverence. For this is good and acceptable in the sight of God our Savior' (1 Timothy 2:2–3).

On June 2, we ask that pastors would lead their congregations in praying for the President, that Sunday schools and other groups would join together and pray, and that individuals and families across the country would have a special focus on praying for the President that day.

Would you let me know in the comments below if you commit to pray with us? And will you share this on your social media platforms so that we can have as many people as possible praying.

'For we do not wrestle against flesh and blood, but against principalities, against powers, against the rulers of the darkness of this age, against spiritual hosts of wickedness in the heavenly places." (Ephesians 6:12).
250 Christian leaders quickly answered the call:
"We the undersigned are calling for June 2 to be a special Day of Prayer for the President of the United States, Donald J. Trump, that God would protect, strengthen, embolden, and direct him.

We believe our nation is at a crossroads, at a dangerous precipice. The only one who can fix our country's problems is God Himself, and we pray that God will bless our president and our nation for His glory.'"
I don't know if Rev. Graham realizes it, but he picked a date that follows the day of a waning crescent moon. As many of you know, we (The U.S. Grace Force) have been praying, for over two years, St. Patrick's Lorica prayer for President Trump each month during the waning crescent moon, ever since we were made aware of a nationwide campaign by witches (estimates are that witches in the USA now number 1.5 million) to put a hex on the President. You can read about the witches' campaign HERE.
U.S. Grace Force Joins Forces
I've been saying, for a while now, that we are quickly heading toward a "D-Day of Spiritual Warfare." Not surprisingly, June 2nd is the Sunday just before the 75th Anniversary of D-Day, Normandy, France, June 6, 1944. I don't know if this is setting up as "the" D-Day of Spiritual Warfare, but I do believe the U.S. Grace Force must answer the call to join forces with our Christian brothers and sisters for this epic spiritual battle on June 2nd.
Here's the U.S. Grace Force Special Ops Mission for Sunday, June 2:
On June 2, pray the Lorica Prayer For the President (see below).
On June 2, bring your prayer for the President to Sunday Mass with you.
On June 2, light a votive candle in church, before the Blessed Mother, for the President.
On June 2, offer your daily rosary for the President.
On June 2, if you have one of the Green Scapulars I have given out, hold it while you pray for the President. Those particular Green Scapulars were touched to a Relic of the True Cross that was rescued from a bombed out castle  during the original D-Day invasion on June 6, 1944.
If you have not yet enlisted in the U.S. Grace Force, you can enlist HERE. This places you on an email list for USGF notifications, prayers, training, etc.
SAINT PATRICK'S LORICA FOR PROTECTION
(Replace first person with "President Trump")
I arise today
Through a mighty strength, the invocation of the Trinity,
Through belief in the Threeness,
Through confession of the Oneness
of the Creator of creation.
I arise today
Through the strength of Christ's birth with His baptism,
Through the strength of His crucifixion with His burial,
Through the strength of His resurrection with His ascension,
Through the strength of His descent for the judgment of doom.
I arise today
Through the strength of the love of cherubim,
In the obedience of angels,
In the service of archangels,
In the hope of resurrection to meet with reward,
In the prayers of patriarchs,
In the predictions of prophets,
In the preaching of apostles,
In the faith of confessors,
In the innocence of holy virgins,
In the deeds of righteous men.
I arise today, through
The strength of heaven,
The light of the sun,
The radiance of the moon,
The splendor of fire,
The speed of lightning,
The swiftness of wind,
The depth of the sea,
The stability of the earth,
The firmness of rock.
I arise today, through
God's strength to pilot me,
God's might to uphold me,
God's wisdom to guide me,
God's eye to look before me,
God's ear to hear me,
God's word to speak for me,
God's hand to guard me,
God's shield to protect me,
God's host to save me
From snares of devils,
From temptation of vices,
From everyone who shall wish me ill,
afar and near.
I summon today
All these powers between me and those evils,
Against every cruel and merciless power
that may oppose my body and soul,
Against incantations of false prophets,
Against black laws of pagandom,
Against false laws of heretics,
Against craft of idolatry,
Against spells of witches and smiths and wizards,
Against every knowledge that corrupts man's body and soul;
Christ to shield me today
Against poison, against burning,
Against drowning, against wounding,
So that there may come to me an abundance of reward.
Christ with me,
Christ before me,
Christ behind me,
Christ in me,
Christ beneath me,
Christ above me,
Christ on my right,
Christ on my left,
Christ when I lie down,
Christ when I sit down,
Christ when I arise,
Christ in the heart of every man who thinks of me,
Christ in the mouth of everyone who speaks of me,
Christ in every eye that sees me,
Christ in every ear that hears me.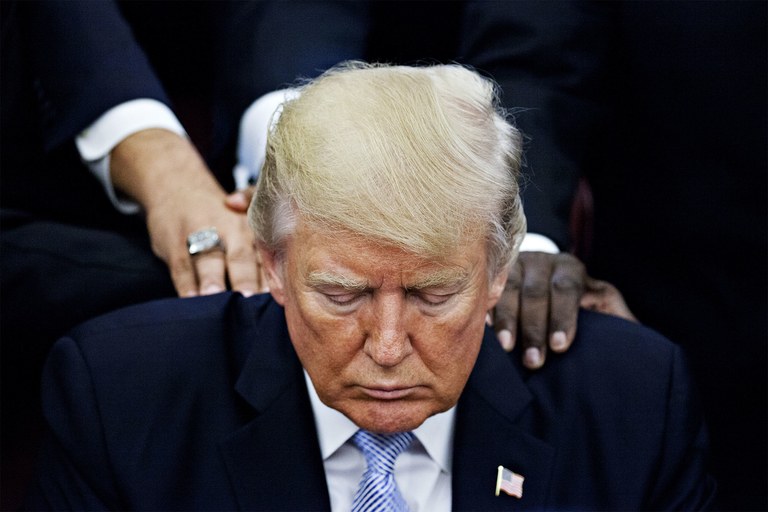 Related Articles
Read more from USGF Prayer Campaigns