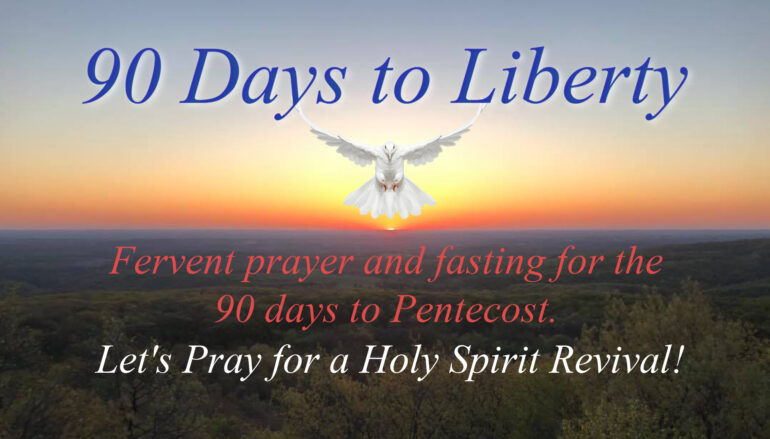 Day 38 – 90 Days to Liberty
Prayer is our outstanding supernatural resource for fighting the wiles of the enemy!
"Prayer is, beyond doubt, the most powerful weapon the Lord gives us to conquer evil … but we must really put ourselves into the prayer, it is not enough just to say the words, it must come from the heart. And also prayer needs to be continuous, we must pray no matter what kind of situation we find ourselves in: the warfare we are engaged in is ongoing, so our prayer must be on-going also." – St. Alphonsus
You see? Whether it's a Navy SEAL or a Saint, we admire those who put it all on the line — go "all in!" — those who are totally dedicated to the mission … and God admires them too. Throughout salvation history, we have seen how God responds to this resolute and determined kind of prayer, just as Jesus taught His disciples. It was in Nineveh that the entire city turned back to God and did all that they could, through prayer and fasting, to "demonstrate to" God that they were absolutely resolute in this "turning." God saw how "serious" they were about this, and He was moved (Jonah 3:3-10). This is yet another story that demonstrates how God – a perfect Father – compels His children to be truly resolute and quite serious when calling out to Him.
The heroes of our faith are the warrior saints who have gone before us. God worked mightily and miraculously through them. Therefore, we must study their ways. How did they remain so well connected, in such strong friendship with God, so that His river of supernatural grace could flow so freely through them? What do these "SEALS for Christ" teach us about the ideal spiritual disciplines, the ultimate daily regimen of prayer?
The following are those top ten ideal and most rock-solid foundational practices of an authentically strong Catholic.
The Morning Offering
The Angelus (6 AM, noon, 6 PM)
Mental Prayer (at least 15 minutes)
Spiritual Reading (at least 15 minutes)
Frequent Confession (at least once a month)
Holy Mass and Communion
Adoration of the Blessed Sacrament (regularly)
Acts of Mortification (especially fasting)
The Holy Rosary
Brief Examination of Conscience (at night)
Our Daily Prayer for Liberty and for a Holy Spirit Revival 
"Free us from every force of oppression, both internally and externally. Grant to our leaders the wisdom to protect and promote our liberties; by your grace may we have the courage to defend them, for ourselves and for all those who live in this blessed land. Heavenly Father, grant a Holy Spirit Revival in our land!" (Based on a prayer by the USCCB)
"Freedom from Worldliness" by Fr. Rick Heilman
This being the finale of my reflections for Let Freedom Ring (LFR), I felt called to write about the amazing "Life of Grace." Almost all those who have been participating in LFR have enlisted in the United States Grace Force. At this writing, the Grace Force is 76,000 strong. The Grace Force adheres to St. Paul's call to get strong: "Be strong in the Lord and in his mighty power. Put on the full armor of God, so that You can take Your stand against the devil's schemes" (Eph 6:10-11).
By choosing to live in God's supernatural grace, we are choosing a life lived beyond the low life of mere worldliness and, instead, we are choosing to live the "higher life" in God's grace, described so well by Archbishop Fulton Sheen:
"Christ's reason for taking upon Himself a human nature was to pay for sin by death on the cross and to bring us a higher life … This higher life which is divine, distinct from the human, is called grace, because it is gratis or a free gift of God … Man may live at three different levels: the sensate, the intellectual, and the divine. These may be likened to a three-story house.

The sensate level, or the first floor, represents those who deny any other reality except the pleasures that come from the flesh. Their house is rather poorly furnished and is capable of giving intermittent thrills which quickly dry up. The occupant of this first floor is not interested in being told of higher levels of existence; in fact, he may even deny their existence.

On the second floor, there is the intellectual level of existence, that of the scientist, the historian, the journalist, the humanist; the man who has brought to a peak all of the powers of human reason and human will. This is a much more comfortable kind of existence, and far more satisfying to the human spirit. Those on the second floor may think their floor is 'a closed universe,' regarding as superstitious those who desire a higher form of life.

But there is actually a third floor which is the floor of grace by which the human heart is illumined by truths which reason cannot know; by which the will is strengthened by a power quite beyond all psychological aids, and the heart is entranced with the love which never fails; which gives a peace that cannot be found on the two lower levels …

The world, therefore, is divided into the 'once born' and the 'twice born': between the sons of the old Adam, and the sons of the new Adam, Christ; between the unregenerate and the regenerate. There is a real inequality in the world. There are 'superior' and 'inferior' peoples, but the basis of distinction is not color, race, nationality, or wealth. The superior people of the earth are the supermen, the God-men; the inferior people are those who have been called to that superior state but, as yet, have not embraced it."
Boil everything down, and we see that this is at the heart of the battle today. While we are called to be "Supermen/God-men," the "influencers" of our culture are pulling us down to that base and brute level of existence. These influencers, known as the "ruling class" (elites), are actually the inferior people who dwell on the first two floors, who believe and promote that we are nothing more than another animal species. As I pointed out in a previous reflection, the influencers are the media, Hollywood, TV, politicians, universities, public schools, etc., who relentlessly promote the false gods of sexual hedonism and radical narcissism. "If it feels good, just do it." This is the "law of animals."
Add to this, we are emerging from a very grim period of spiritual weakness where most Christians ceased to believe in the supernatural power of God. As a result, Satan and his minions have been able to move almost unabated while, in spiritual terms, we have stood naked on the battlefield with no spiritual armor and no spiritual weapons to combat Satan's evil designs. Thank God, we are witnessing a renaissance of "belief" in the supernatural power of God.
Under the power of supernatural grace, we are called to lift ourselves up, along with the entire world, into the "higher life" of the principals, morals, ethics, values, and virtues of God that raises every society out of darkness and chaos into the light of truth and peace. President Ronald Reagan once famously stated, "We maintain the peace through our strength; weakness only invites aggression." The Grace Force uses the motto, "Peace through Strength" (in Latin, Per Virtutem Pax). Spiritual warfare is about our resolve to become strong in God's supernatural power; the only power capable of "shining out" the dark and aggressive satanic forces of evil.
Go to Confession frequently. Go to Confession frequently. Go to Confession frequently. And walk humbly with your God. So, pray as though you believe God is right there listening; humbly obey "all" Church teachings; look for opportunities to, selflessly, be a light in others' lives; and BELIEVE in the power of God!
Be in the world, but not of the world. Be Supermen! (or, Superwomen!). Be Saints! Be-lieve! (From "Let Freedom Ring")
You can enlist in the United States Grace Force HERE (please recruit family and friends!)
Information on the United States Grace Force can be found HERE
We highly recommend ordering the book "Let Freedom Ring" authored by Fr. Bill Peckman, Fr. James Altman and Fr. Rick Heilman. This amazing book will be a great tool for easy access, highlighting and bookmarking as you traverse through the first 40-days of our 90 Days to Liberty journey with tens of thousands of other special forces prayer warriors!
You can order the book at RomanCatholicGear.com.
You may want to consider using the Hallow App for Lent: Hallow.com
GET YOUR PEACE THROUGH STRENGTH PRAYER JOURNAL …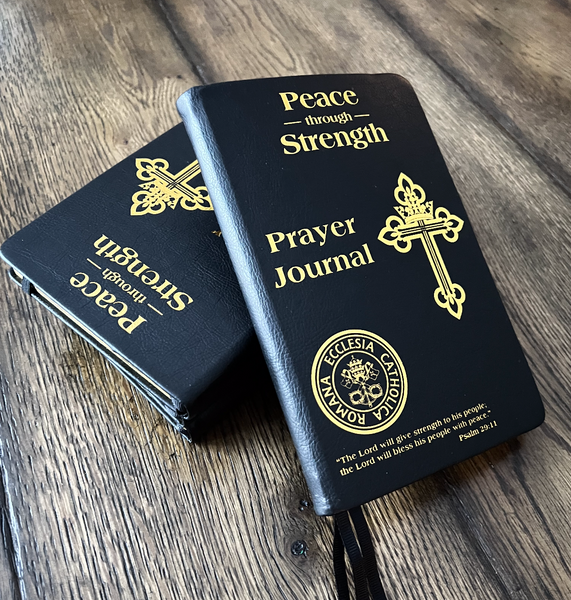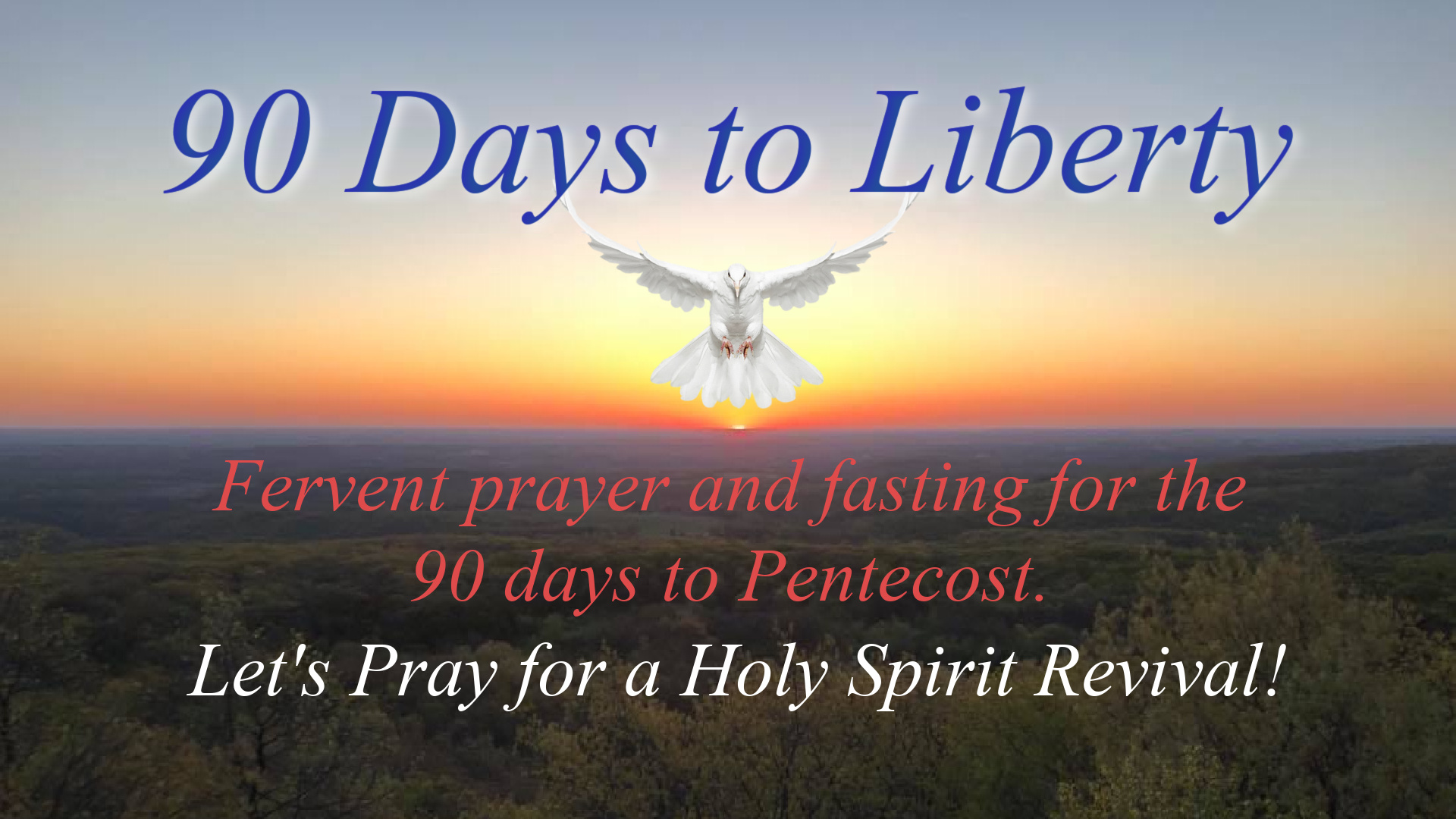 Related Articles
Read more from USGF Prayer Campaigns