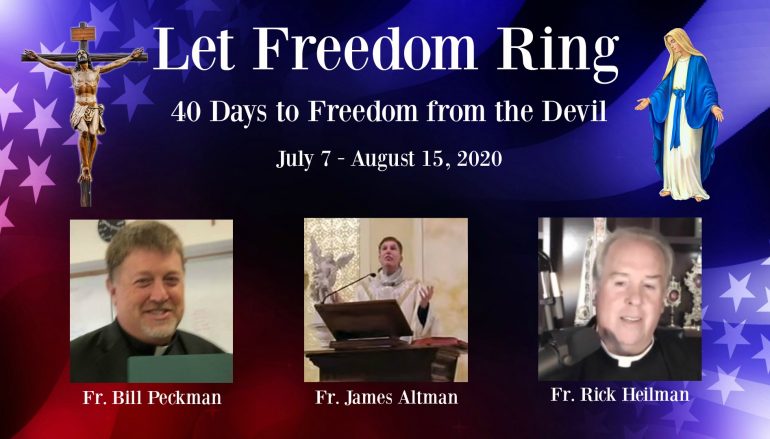 Day 38 – Let Freedom Ring: Freedom from Worldliness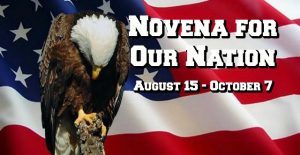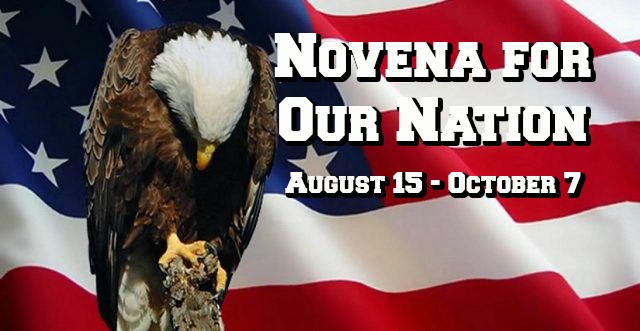 ANNOUNCEMENT! We are getting very close to concluding "Let Freedom Ring" and beginning the 54-Day Rosary novena entitled, "Novena for Our Nation" (August 15 – October 7). Both on August 15, the Feast of Our Lady of the Assumption. You can find information for "Novena for Our Nation" HERE.
"Let Freedom Ring" has acted as a kind of cleansing/purifying, or exorcism, as "Novena for Our Nation" acts as a call out to God to bless and heal our land. Please join us for "Novena for Our Nation!!"
Let Freedom Ring: Freedom from Worldliness
My Lord and Savior Jesus Christ,
At a word from You, the devil and his minions flee in terror.
You are the source of all truth. You are the source of all strength.
By the power of Your Cross and Resurrection, we beseech You, O Lord
To extend Your saving arm and to send Your holy angels
To defend us as we do battle with Satan and his demonic forces.
Exorcise, we pray, that which oppresses Your Bride, The Church,
So that within ourselves, our families, our parishes, our dioceses, and our nation
We may turn fully back to You in all fidelity and trust.
Lord, we know if You will it, it will be done.
Give us the perseverance for this mission, we pray.
Amen.
Our Lady of the Immaculate Conception … pray for us
St. Joseph … pray for us
St. Michael the Archangel … pray for us
(the patron of your parish) … pray for us
(your confirmation saint) … pray for us
"Freedom from Worldliness" by Fr. Rick Heilman
This being the finale of my reflections for "Let Freedom Ring" (LFR), I felt called to write about the amazing "Life of Grace." Almost all those who have been participating in LFR have enlisted in the United States Grace Force. At this writing, the Grace Force is 70,000 strong. The Grace Force adheres to St. Paul's call to Get Strong: "Be strong in the Lord and in his mighty power. Put on the full armor of God, so that you can take your stand against the devil's schemes" (Eph 6:10-11).
By choosing to live in God's supernatural grace, we are choosing a life lived beyond the low life of mere worldliness and, instead, we are choosing to live the "Higher Life" in God's grace, described so well by Archbishop Fulton Sheen …
"Christ's reason for taking upon Himself a human nature was to pay for sin by death on the cross and to bring us a higher life … This higher life which is divine, distinct from the human, is called grace, because it is gratis or a free gift of God … Man may live at three different levels: the sensate, the intellectual, and the divine. These may be likened to a three-story house.

The sensate level, or the first floor, represents those who deny any other reality except the pleasures that come from the flesh. Their house is rather poorly furnished and is capable of giving intermittent thrills which quickly dry up. The occupant of this first floor is not interested in being told of higher levels of existence; in fact, he may even deny their existence.

On the second floor, there is the intellectual level of existence, that of the scientist, the historian, the journalist, the humanist; the man who has brought to a peak all of the powers of human reason and human will. This is a much more comfortable kind of existence, and far more satisfying to the human spirit. Those on the second floor may think their floor is 'a closed universe,' regarding as superstitious those who desire a higher form of life.

But there is actually a third floor which is the floor of grace by which the human heart is illumined by truths which reason cannot know; by which the will is strengthened by a power quite beyond all psychological aids, and the heart is entranced with the love which never fails; which gives a peace that cannot be found on the two lower levels …

The world, therefore, is divided into the 'once born' and the 'twice born': between the sons of the old Adam, and the sons of the new Adam, Christ; between the unregenerate and the regenerate. There is a real inequality in the world. There are 'superior' and 'inferior' peoples, but the basis of distinction is not color, race, nationality, or wealth. The superior people of the earth are the supermen, the God-men; the inferior people are those who have been called to that superior state but, as yet, have not embraced it."
Boil everything down, and we see that this is at the heart of the battle today. While we are called to be "Supermen/God-men," the "influencers" of our culture are pulling us down to that base and brute level of existence. These "influencers," known as the "ruling class" (elites), are actually the "inferior people" who dwell on the first two floors, who believe and promote that we are nothing more than another animal species. As I pointed out in a previous reflection, the influencers are the media, Hollywood, TV, politicians, universities, public schools, etc., who relentlessly promote the false gods of sexual hedonism and radical narcissism. "If it feels good, just do it." This is the "law of animals."
Add to this, we are emerging from a very grim period of spiritual weakness as the vast majority of Christians ceased to believe in the supernatural power of God. As a result, Satan and his minions have been able to move almost unabated while, in spiritual terms, we have stood naked on the battlefield with no spiritual armor and no spiritual weapons to combat Satan's evil designs. Thank God, we are witnessing a renaissance of "belief" in the supernatural power of God.
Under the power of supernatural grace, we are called to lift ourselves up, along with the entire world, into the "higher life" of the principals, morals, ethics, values, and virtues of God that raises every society out of darkness and chaos into the light of truth and peace. President Ronald Reagan once famously stated, "We maintain the peace through our strength; weakness only invites aggression." The Grace Force uses the motto, "Peace through Strength" (in Latin, Per Virtutem Pax). Spiritual warfare is about our resolve to become strong in God's supernatural power; the only power capable of "shining out" the dark and aggressive satanic forces of evil.
Go to Confession frequently. Go to Confession frequently. Go to Confession frequently. And, walk humbly with your God. So, pray as though you believe God is right there, listening; humbly obey "all" Church teachings; look for opportunities to, selflessly, be a light in others' lives; and BELIEVE in the power of God!
Be in the world, but not of the world. Be Supermen! (or, Superwomen!). Be Saints! Be…lieve!
Prayer of Reparation
My Lord and my God,
We have allowed the temptation of the devil to move our hearts toward fearfully allowing the spread of worldliness throughout our culture and our Catholic Church.
We have fallen into this widespread worldliness when we have not lived up to the call of our Baptism to, day-by-day, deepen our love and faith in You.
We have been too easily swayed by the poor example of worldliness, in churches everywhere, and have not encouraged a deeper sense of supernatural faith.
In our weakness, we have allowed the ancient foe to advance.
We turn to You Lord, in our sorrow and guilt, and beg Your forgiveness for any of our own worldliness or our lack of resolve to lift souls out of worldliness and into the High Life of grace.
We beg for the grace of Your goodness to build up within us the strength and endurance be this visible light of fervent faith in You.
We know, Lord, if You will it, it will be done.
Trusting in You, we offer our prayer to You who live and reign forever and ever. Amen.
Prayer of Exorcism
Lord God of Heaven and Earth,
In Your power and goodness, You created all things.
You set a path for us to walk on and a way to an eternal relationship.
By the strength of Your arm and Word of Your mouth
Cast from Your Holy Church every fearful deceit of the Devil
Drive from us manifestations of the demonic that oppress us and beckon us to fear and worldliness.
Still the lying tongue of the devil and his forces so that we may act freely and faithfully to do Your will.
Send Your holy angels to cast out all influence that the demonic entities in charge of worldliness have planted in Your Church.
Free us, our families, our parish, our diocese, and our country from all trickery and deceit perpetrated by the Devil and his hellish legions.
Trusting in Your goodness Lord,
We know if You will it, it will be done in unity with Your Son and the Holy Spirit, One God forever and ever. Amen.
Litany of the Most Precious Blood of Jesus
Lord, have mercy on us.
Christ, have mercy on us.
Lord, have mercy on us.
Christ, hear us.
Christ, graciously hear us.
God, the Father of Heaven,
have mercy on us.
God the Son, Redeemer of the world,
have mercy on us.
God, the Holy Spirit,
have mercy on us.
Holy Trinity, One God,
have mercy on us. 
Blood of Christ, only-begotten Son
of the Eternal Father, save us.
Blood of Christ, Incarnate Word of God, save us.
Blood of Christ, of the New and Eternal Testament, etc.
Blood of Christ, falling upon the earth in the Agony,
Blood of Christ, shed profusely in the Scourging,
Blood of Christ, flowing forth in the Crowning with Thorns,
Blood of Christ, poured out on the Cross,
Blood of Christ, price of our salvation,
Blood of Christ, without which there is no forgiveness,
Blood of Christ, Eucharistic drink and refreshment of souls,
Blood of Christ, stream of mercy,
Blood of Christ, victor over demons,
Blood of Christ, courage of martyrs,
Blood of Christ, strength of confessors,
Blood of Christ, bringing forth virgins,
Blood of Christ, help of those in peril,
Blood of Christ, relief of the burdened,
Blood of Christ, solace in sorrow,
Blood of Christ, hope of the penitent,
Blood of Christ, consolation of the dying,
Blood of Christ, peace and tenderness of hearts,
Blood of Christ, pledge of Eternal Life,
Blood of Christ, freeing souls from purgatory,
Blood of Christ, most worthy of all glory and honor,
Lamb of God, Who takest away the sins of the world,
Spare us, O Lord.
Lamb of God, Who takest away the sins of the world,
Graciously hear us, O Lord.
Lamb of God, Who takest away the sins of the world,
Have mercy on us.
Thou hast redeemed us, O Lord, in Thy Blood.
R. And made us, for our God, a kingdom.
Let us pray.
Almighty and eternal God, Thou hast appointed Thine only-begotten Son the Redeemer of the world and willed to be appeased by his blood. Grant, we beg of Thee, that we may worthily adore this price of our salvation and through its power be safeguarded from the evils of the present life so that we may rejoice in its fruits forever in heaven. Through the same Christ our Lord. Amen.
To see the Goals, Methods and Levels of "Let Freedom Ring," go HERE.
ENLIST IN THE UNITED STATES GRACE FORCE
(Please recruit family and friends to enlist!)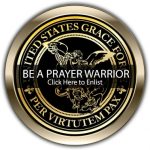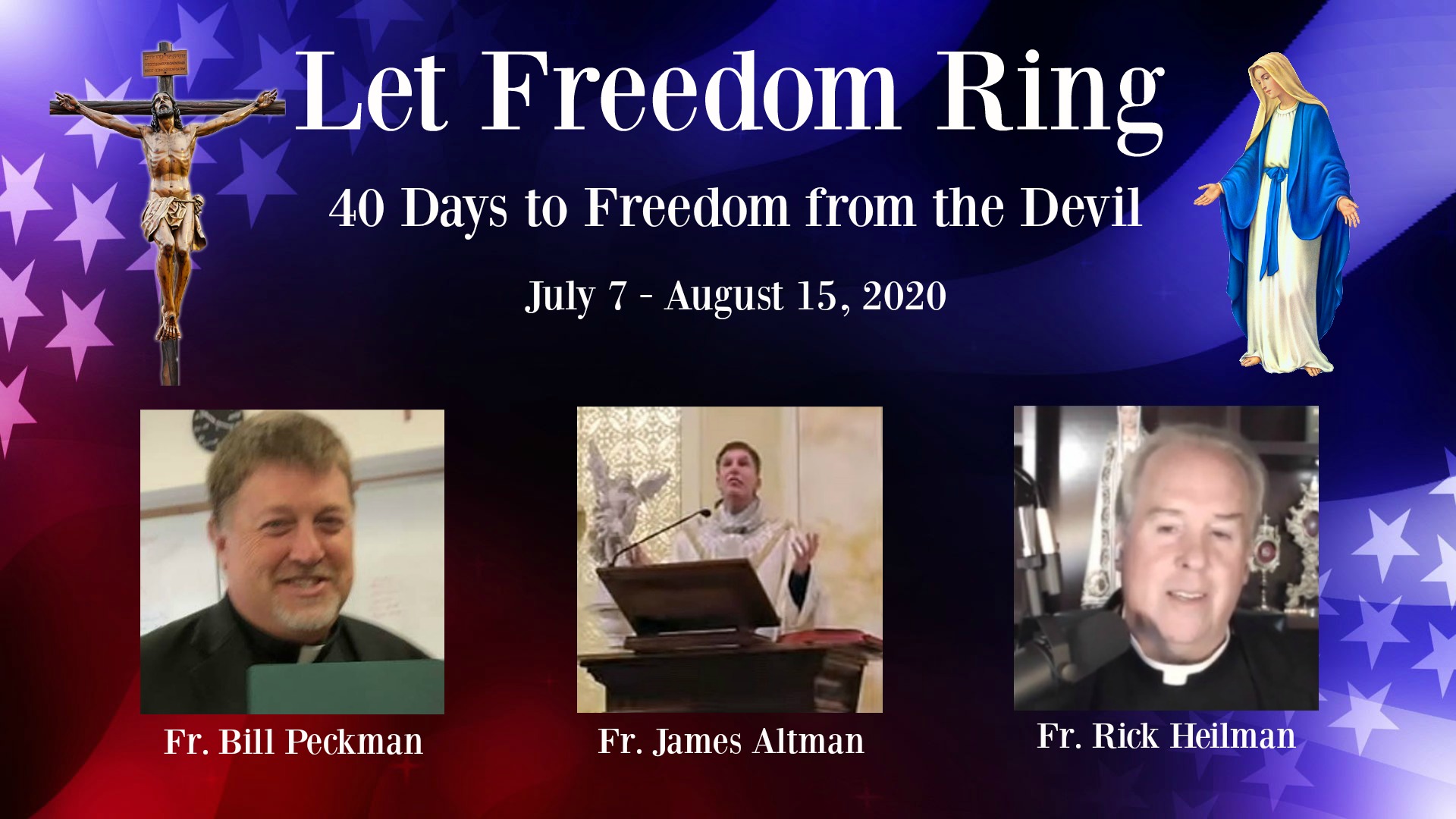 Related Articles
Read more from Announcements