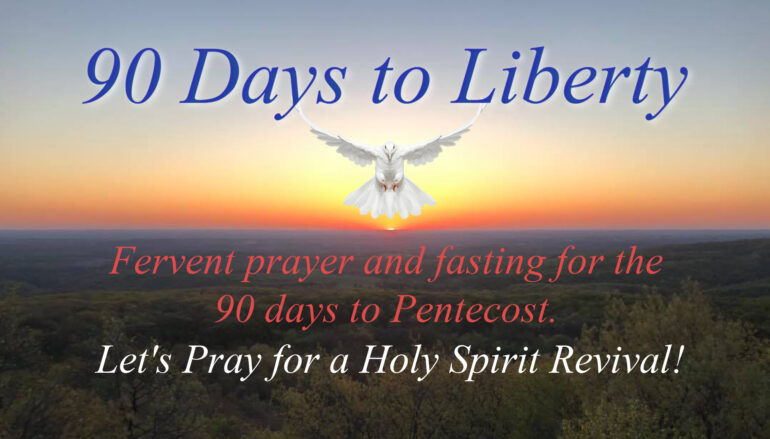 Day 80 – 90 Days to Liberty – Pentecost Novena Begins Friday
PENTECOST NOVENA BEGINS THIS FRIDAY, MAY 19
The daily novena prayers will be included here.
The novena in honor of the Holy Spirit is the oldest of all novenas since it was first made at the direction of Our Lord Himself when He sent His apostles – the first bishops – back to Jerusalem to await the coming of the Holy Spirit on the first Pentecost. It is still the only novena officially prescribed by the Church. Addressed to the Third Person of the Blessed Trinity, it is a powerful plea for the light and strength and love so sorely needed by every Christian.
These 90 days have been our plea to God for a Holy Spirit revival. Huddled in fear in the upper room, the first bishops did not really understand what Jesus was about to do. Then Jesus came through their locked door and breathed on them saying, "Receive the Holy Spirit."  Those first bishops then received the "supernatural strength and courage" to boldly preach God's truths, even as it threatened their lives. Our Church today is suffering from a scarcity of the supernatural, and so the ruler of the world is easily advancing, unabated. Our bishops need a fresh outpouring of the Holy Spirit. We all need a fresh outpouring of the Holy Spirit.
WE NEED A HOLY SPIRIT REVIVAL!!
Our Daily Prayer for Liberty and for a Holy Spirit Revival 
"Free us from every force of oppression, both internally and externally. Grant to our leaders the wisdom to protect and promote our liberties; by your grace may we have the courage to defend them, for ourselves and for all those who live in this blessed land. Heavenly Father, grant a Holy Spirit Revival in our land!" (Based on a prayer by the USCCB)
DIVINE CONNECTION
The Gospel story Pope John Paul II sets as the foundation for his new millennium appeal is the "Call of the First Disciples" (Lk 5:1-11). This is the classic scene in which Jesus tells Peter to "Put out into deep water (duc in altum), and let down the nets for a catch." Peter's response is: "Master, we've worked hard all night and haven't caught anything. But because you say so, I will let down the nets." They proceed to catch the maximum amount of fish their nets can hold. Peter, filled with awe and wonder once he realizes he is in the presence of divinity, does not feel worthy to be called. But Jesus says, "Do not be afraid, from now on you will be fishers of men."
Why does the Holy Father choose this particular Gospel reading as the basis for his new millennium master plan? Because Peter's words — "We've worked hard all night and haven't caught anything" — could not speak any more directly to the modern tsunami-like wave of secularism rolling across our planet, as well as our endless parade of parish programs that are mostly done as though God were not there (etsi Deus non daretur).
In other words, the story of the great catch is meant to show that when we try to move only under our own natural power without God (we've worked hard), we will flounder in the chaos of darkness (all night) and come up empty (caught nothing) every time. Jesus asks us to get in sync with him (to obey him) and not be afraid to set aside our superficial (man-powered) tendencies, as we enter the depths of a supernatural (God-powered) life.
Everything in the religious order — sacraments, devotions, teaching, scripture, moral discipline, preaching, etc. — is meant to bring us to this deeper state of being, to this Divine Connection. Jesus calls it "abiding" (Jn 15:4). The Latin for this is maneo which means "to remain" or "to stay" or "to endure" (or like the Marine Corps' semper fi). This Divine Connection, this conformity to love, this participation in the Divine Life of God is the very power of the Holy Spirit and is referred to as being in a state of grace. (Excerpt from Church Militant Field Manual).
You can enlist in the United States Grace Force HERE (please recruit family and friends!)
Information on the United States Grace Force can be found HERE
We highly recommend ordering the book "Let Freedom Ring" authored by Fr. Bill Peckman, Fr. James Altman and Fr. Rick Heilman. This amazing book will be a great tool for easy access, highlighting and bookmarking as you traverse through the first 40-days of our 90 Days to Liberty journey with tens of thousands of other special forces prayer warriors!
You can order the book at RomanCatholicGear.com.
You may want to consider using the Hallow App for Lent: Hallow.com
GET YOUR PEACE THROUGH STRENGTH PRAYER JOURNAL …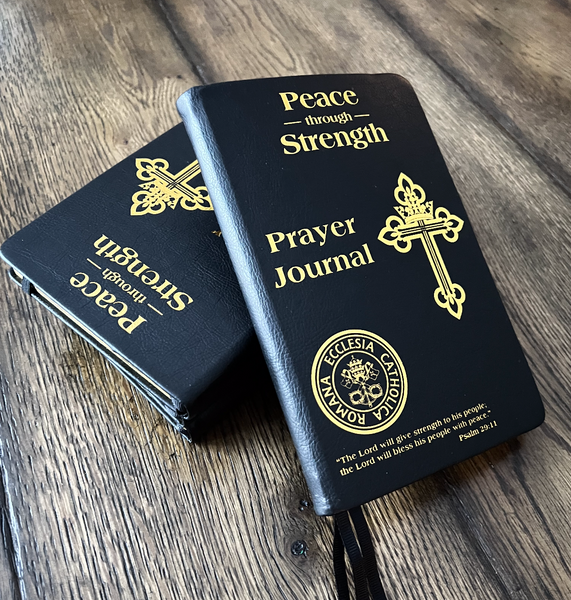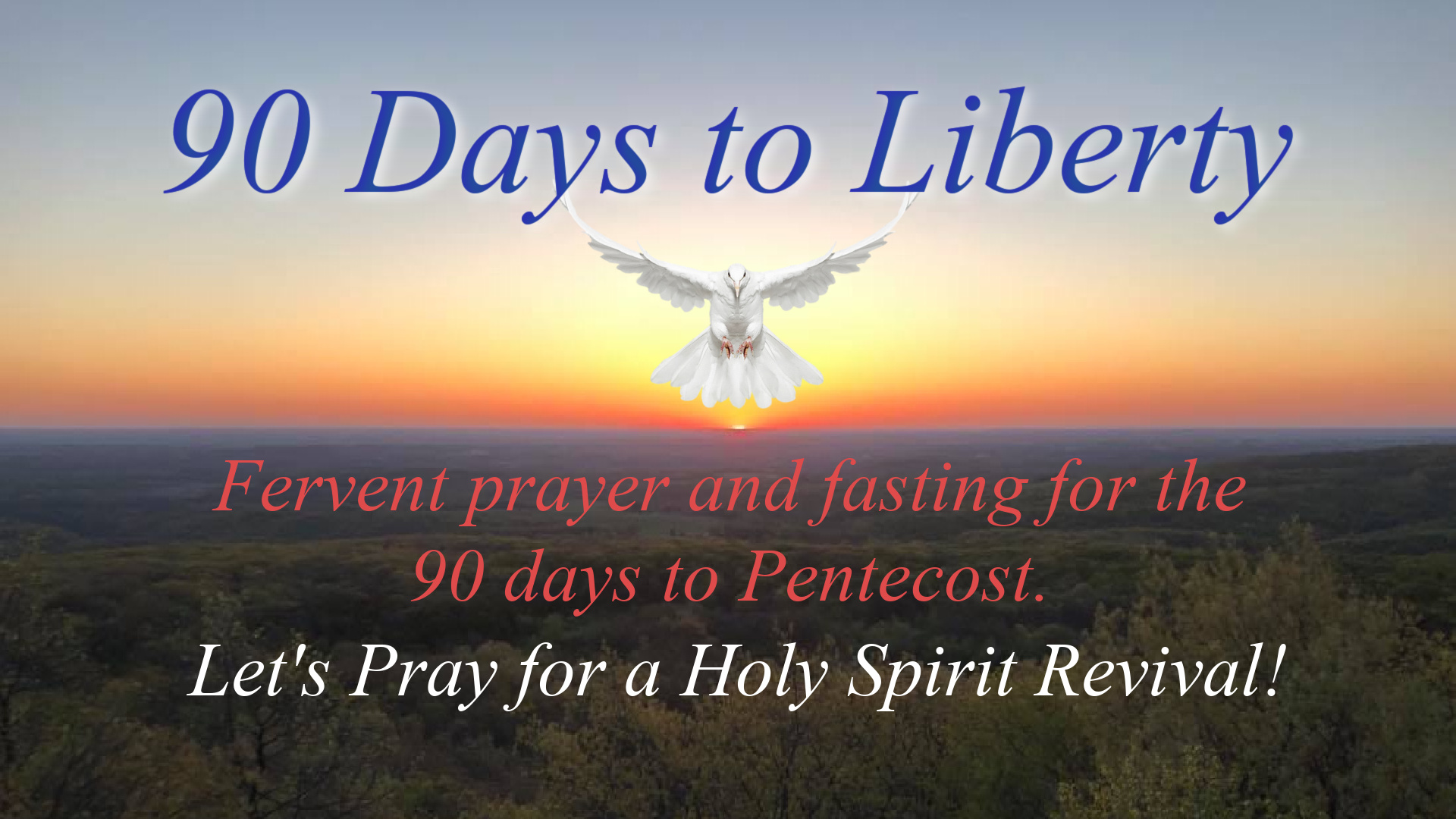 Related Articles
Read more from USGF Prayer Campaigns