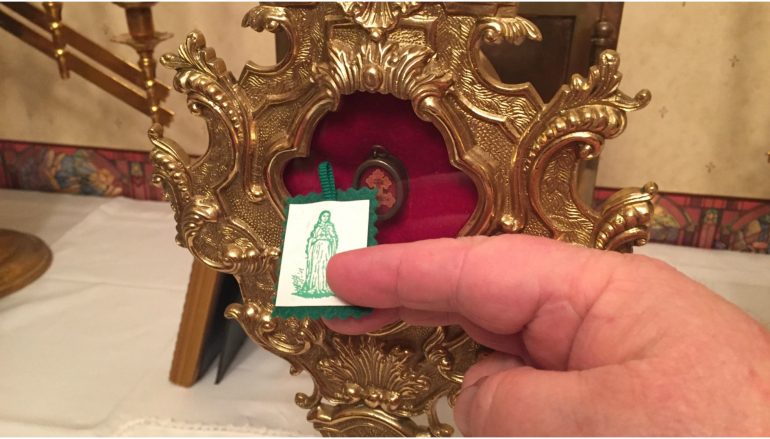 Free Green Scapulars Touched to Relic of True Cross for Conversion & Healing
Powerful Sacramentals over the next three weeks
Over the next three weeks, I will be offering very powerful sacramentals for FREE.
Week One: "Green Scapular Week"
Week Two: "Exorcised & Blessed Salt Week"
Week Three: "Epiphany Holy Water Week"
Week One: Two FREE Green Scapulars!
This is REALLY good news!! And, I am very excited about this!!
I am planning to do everything I can to get two Green Scapulars to anyone who asks. We are limiting this to the first 1,500 requests for now. Simply because fulfillment can be overwhelming. I will offer more at some later date. We have given away nearly 30,000 Green Scapulars, so far. 🙂
These are FREE. We are not allowed to sell blessed things. But, many have asked if they can donate. If you feel called to give a donation to my parish, you can do so HERE. You do not need to give any donation. I am thrilled to offer these for free.
As you can see by the photo, these Green Scapulars are touched to a Relic of the True Cross of Christ. You can read about this particular Relic, which was rescued during the D-Day invasion in Normandy: HERE.
You can read about the Green Scapular HERE. The first promise is for the "Conversion of those who do not have the faith." I have seen and heard countless stories of the miracle of conversions through the Green Scapular. The second promise is for physical healings. We have seen many physical healings through the Green Scapular.
You can order your two FREE Green Scapulars HERE: RomanCatholicGear.com
Why the Green Scapular
We probably all know at least one person who has fallen away from the Catholic faith, whether it be after a tragic event, a pulling away from family and tradition, or after having doubts about the Faith that have grown over many years.
Our hearts ache to see this, because the very strength these people need to overcome their difficulties can come through the graces received in the sacraments!
Looking at these situations, it's easy to feel helpless. Many times we think despondently that all we can do is pray…
However this can result from a narrow understanding of what prayer looks like, particularly when it comes to prayers for healing and conversion.
While the rosary, the Memorare, and other prayers are wonderfully powerful ways to intercede for others, Our Blessed Mother decided, in 1840, to help us get a little more creative in regards to how we pray for healing and spiritual conversion for the people in our lives.
Many people know, love, and live the devotion of the Brown Scapular as a way of praying and serving more intentionally. But not many people know about the Green Scapular, which has quickly become known for miracles related to spiritual conversion, as well as healings from physical and mental illness. (In this context, conversion generally refers to non-believers accepting the truths of the Catholic faith, or the return of those who have fallen away from the Faith).
Most people will hide these Green Scapulars in the vicinity of where your loved one (in need of conversion) is frequently … under their mattress, under their car seat, etc.
NOTE: If you have someone who is rebelling against God and Catholic faith, it is better to hide it near them rather then handing it to them, as they will likely just throw it away.
I will conclude with the latest story I received about the Green Scapular …
"Some time ago I placed a green scapular in the home of my sister and prayed for her reversion to the faith. A couple months ago, she purchased a Rosary. Today she asked if I knew someone who could bless it. So, I'm bringing it to you, Fr. Heilman! My Mom and Dad are smiling in Heaven!"
Please consider enlisting, along with 57,000 others, in the United States Grace Force. You can read about the USGF HERE.
I'm Going In!
ENLIST IN THE UNITED STATES GRACE FORCE
(Please recruit family and friends to enlist!)
Related Articles
Read more from Latest Posts