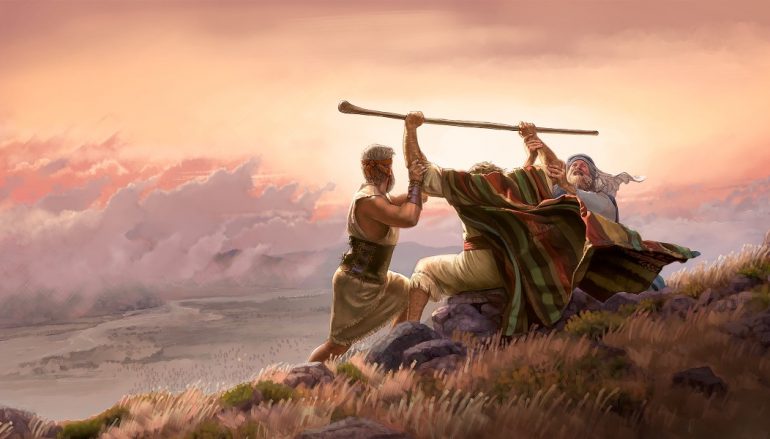 How Does Moses Show Us How to Live with a Youthful Zeal for Life?
I believe the story of Moses, Joshua and the Amalekites is a window into how we can all live with a "youthful zeal for life." Here is the story of which I am referring:
Then Amalek came and waged war against Israel in Rephidim. So Moses said to Joshua, "Choose some men for us, and tomorrow go out and engage Amalek in battle. I will be standing on top of the hill with the staff of God in my hand." Joshua did as Moses told him: he engaged Amalek in battle while Moses, Aaron, and Hur climbed to the top of the hill. As long as Moses kept his hands raised up, Israel had the better of the fight, but when he let his hands rest, Amalek had the better of the fight. Moses' hands, however, grew tired; so they took a rock and put it under him and he sat on it. Meanwhile Aaron and Hur supported his hands, one on one side and one on the other, so that his hands remained steady until sunset.  And Joshua defeated Amalek and his people with the sword. (Exodus 17:8-13)
As with all of the stories of the Bible, we strive to draw out a deeper meaning that helps us understand the designs of God, and apply them to our lives and, especially, our relationship with God. Let's take a look …
Amalek is directly tied to "doubt" or "lukewarm" or "weak faith" on the part of God's people. When the Hebrew people doubt or become weak in their faith in God, Amalek strikes.
The Amalekites were ever a strap of chastisement for Israel. You find that as soon as they said, "Is the Lord among us?"Then came Amalek. When they said one to another: "Let us make a captain, and let us return into Egypt," then the Amalekites came down. "Captain" was a formal renunciation of the authority of Moses. "Return into Egypt" is an abandonment of their higher calling, back to the depressing, yet familiar, life they were leading.
Look at how Our Lord cared for them: The Holy One carried them on eagles' wings, encircled them with the clouds of glory, made the Shekinah go before them, gave them manna to eat, and sweet water to drink, and yet they complained! Hence, the Amalek came.
This "Return into Egypt" calls to mind the stunning verse at the conclusion of our Lord's "Bread of Life discourse": "As a result of this, many of his disciples returned to their former way of life and no longer accompanied him." It is interesting to note that the verse from John's Gospel that contains this very sad retreat is the number of the name of the coming Antichrist – John 6:66.
The idea of "doubt" or "lukewarm" being a critical sin, was actually brought up in John's vision:
"I know your works; I know that you are neither cold nor hot. I wish you were either cold or hot. So, because you are lukewarm, neither cold nor hot, I will vomit you out of My mouth." -Revelation 3:15-16
And so, what does this story from Exodus demonstrate to all of us? When we grow weak in faith; when we retreat into a lukewarm, half-hearted faith, we find ourselves at war. In other words, the demons that bring disorder, chaos and turmoil into our lives are let loose into our lives, into our homes, into our Church and into our culture.
Let's begin with the culture. Look all around us. Everyone is in utter shock as to the turmoil, division, chaos and totally unhinged behavior.
Look at our Church. The threat of heresy, pagan idols paraded in the Vatican, confusion and division is everywhere.
Why? Atheism is on the rise, while Christianity is on a steep decline. We may be at the weakest point in salvation history as, now, 70% – 70%!!! – of Catholics do not believe that is God on our altars.
Make no mistake about it, God wants us to live in the tranquility of peace and love and joy and harmony of His presence always. But, discord, fighting and misery are the inevitable outcomes when faith becomes lukewarm; when it is weakened. It is then that Amalek is awakened and finds an opening to war against us.
This is how the story of Moses, Joshua and the Amalekites gives us insight into a way toward of life of beautiful tranquility and order in our lives.
The first thing Moses acknowledges is that "the fight is necessary." As I wrote above, their doubt and weak faith left them vulnerable to attack. And so, the enemy advanced on them. Look how far the enemy has advanced on us … Tens of millions of unborn babies have been slaughtered; illegitimacy rates have soared; divorce has skyrocketed; pornography is rampant; drug use has exploded; sexually transmitted diseases such as AIDS have killed millions; birth control is a way of life; sex outside of wedlock has become the norm; countless children have been permanently damaged — their innocence lost forever — because of the proliferation of broken homes; and sodomy and homosexuality are celebrated openly. America has become the new Babylon.
Evil has conquered very significant ground in our culture and, like the Crusades, we are called to reclaim surrendered ground. This will take very serious "action" by many courageous souls.
But, then, notice what Moses does. He goes up on the mountain and raises his staff. Moses is calling down the supernatural power of God. He knows this "fight" is fruitless without the power of God. His arms raised represents the "strength of faith" in God's power. Aaron and Hur represent the need for all of us to raise each other up in our pursuit of holiness … we NEED each other!
Scripture scholars note that Joshua and his warriors were actually receiving a real supernatural power as Moses "interceded" for them. The power, it is written, is one that infused in them a "youthful zeal and passion for their higher calling in life."
YES!! This is what grace brings to all of us. When doubt and a lukewarm faith enters in, our souls become tired and old and half-dead … or even dead (mortal sin). We lose our passion for the amazing missions God places before us. We retreat into a kind of closed-in "spiritual nursing home," unable or unwilling to accomplish much more than "the basics." Life becomes bland and lifeless.
When we are strong in faith; when we are strong in God's power, we zealously "seek the more" of God's life and missions. In other words, we are "God Strong" in God's supernatural grace!
This is why the Grace Force adheres to this ancient maxim, which was popularized by President Ronald Reagan: "We maintain the peace through our strength; weakness only invites aggression." (Per Virtutem Pax, in Latin)
"Weakness only invites aggression." That's it! Weakness invites Amalek to invade our lives. Amalek waits for weakness (lukewarm), then advances.
BUT, when we are strong in God's supernatural grace, Amalek awaits for another day. "We maintain the peace through our strength!"
Do you want that YOUTHFUL ZEAL FOR LIFE? Do you want to keep discord, disorder and turmoil at bay in your life, your home and your community? Then, get GOD STRONG. Get in God's good grace; nurture and grow those graces; and do everything you possibly can to please God, who you love with all your heart, mind, soul and strength! THIS is how we live life to the fullest! St. Catherine of Siena put it this way: "If you are what you should be, you will set the whole world ablaze!"
How do we become strong in God's supernatural grace?
Here are the foundational Supernatural Strength Practices of the Grace Force:
Believe in the Supernatural Power of God (Expect Miracles)
Protect (or quickly recover) Your "State of Grace" (No USGF operations without a state of grace)
Absolute Obedience: Adhere to "all" teachings of the Church, and respect legitimate authority
Go to Mass (Daily Mass, if at all possible)
Frequent Confession (Keep your Confessions no more than one month apart)
Fasting (Fasting is a way in which the Lord gives the underdog victory)
Eucharistic Adoration (Dedicate some time each week for Adoration)
Mental Prayer
Sacred Reading (Lectio Divina)
Pray at Every Meal (Make the Sign of the Cross, say the "Bless us, O Lord" prayer)
Daily Rosary
Wear the Brown Scapular (or Scapular Medal)
Pray the Angelus (6:00 a.m., noon, 6:00 p.m. daily)
Large-scale Use of Approved Sacramentals and Devotions
Examine Your Conscience Before Going to Sleep (Take a few minutes just before bed to review your day asking, "How have I behaved as a child of God?" It's also a great time to look at that "dominant fault" you need to improve upon in order to become a saint. Conclude these few minutes of reflection by praying three Hail Marys for purity and then pray the "Act of Contrition")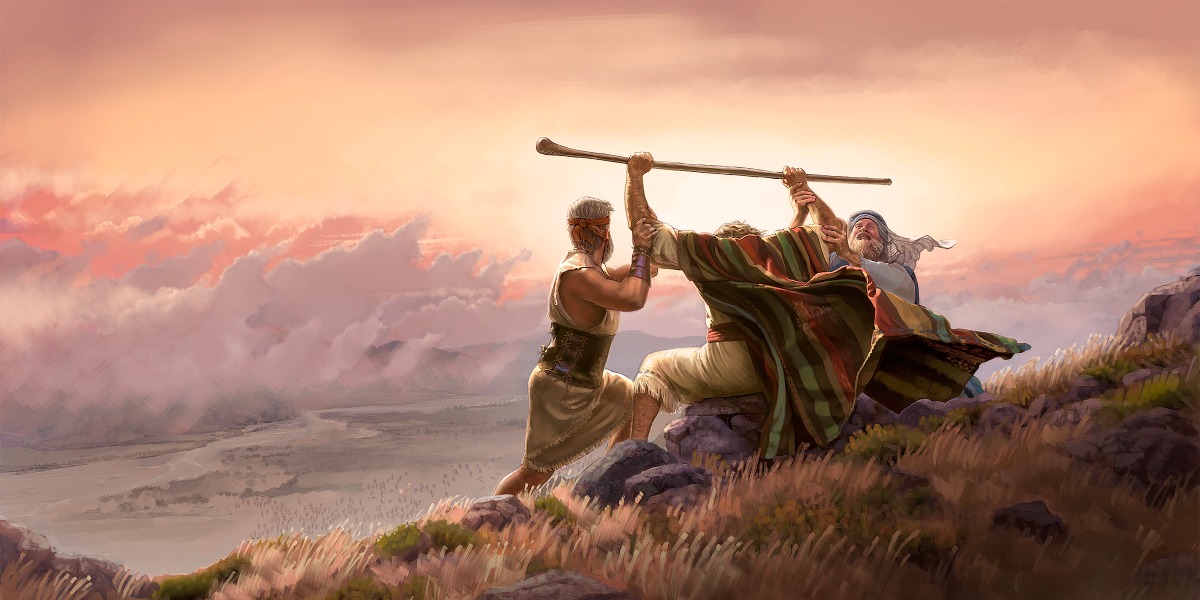 Related Articles
Read more from Latest Posts