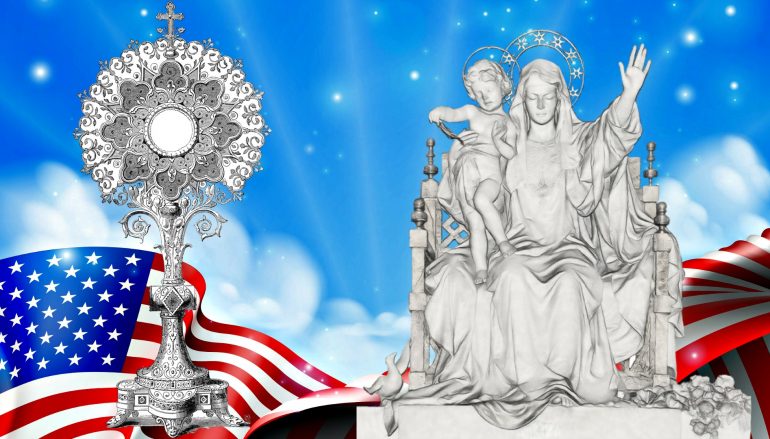 St. John Bosco's Two Pillars Will Save Our Nation – Please Pray With Us
Jericho March with the Two Pillars
At the very beginning of this year, I put out a call (See HERE) for all of us to heed the revelation St. John Bosco received, and to moor ourselves to the two pillars. And so, we would meet at the Wisconsin State Capital on January 31 – Feast of St. John Bosco – to bring Our Lady and Our Lord and, in essence, do the "Jericho March":
"Then the LORD said to Joshua, "See, I have delivered Jericho into your hands, along with its king and its fighting men. March around the city once with all the armed men …

So the people shouted, and the trumpets (SOUNDS LIKE TRUMP/PENCE) were blown. As soon as the people heard the sound of the trumpet, the people shouted a great shout, and the wall fell down flat, so that THE PEOPLE went up into the city, every man straight before him, and THEY CAPTURED THE CITY." -Joshua 6:2,20
As January 31 approached, there was little concern with the virus as reports were coming in that even Dr. Fauci was downplaying the threat. As it turned out, this marked the very day we all began to take the virus seriously as this was the day we witnessed President Trump's "radical call" to enact a China travel ban on … January 31.
Why St. John Bosco's Two Pillars?
If you read about St. John Bosco's famous dream of the "Two Pillars" (Here), we see what is necessary to recover from the "danger and confusion." Here is St. John Bosco's explanation of the dream:
The enemies' ships are the persecutions; they prepare very serious troubles for the Church. What has taken place so far is almost nothing compared with what will occur. Her enemies are the ships which make an attempt to sink the flag ship, if they can. There remain only two means to save ourselves in the midst of so much danger and confusion. Devotion to Mary Immaculate, frequent Confession and Communion.
From here, the Holy Spirit confirmed, over and over, throughout 2020, that the "Two Pillars" were absolutely key in toppling the evil plans of the "New World Order Ruling Class," and usher in a new era of healing and peace into our country:
"If my people, who are called by my name, will humble themselves and pray and seek my face and turn from their wicked ways, then I will hear from heaven, and I will forgive their sin and will heal their land." 2 Chronicles 7:14
This amazing procession (video below) of 3,000 on August 15, at the Wisconsin State Capital, would go on to inspire Eucharistic processions around the nation, many in the streets ravaged by rioters.  And now, "Election Day Adoration" at close to 700 churches. You can see at UniteOurNation.net.
You can read all about this "Year of the Two Pillars" in this excellent article by Catholic World Report: "Healing the Land on Election Day."
Election Day Two Pillars
Adoration live-streamed from St. Mary of Pine Bluff from 8am CST to 8pm CST
Patriotic Rosary for America
Related Articles
Read more from Latest Posts