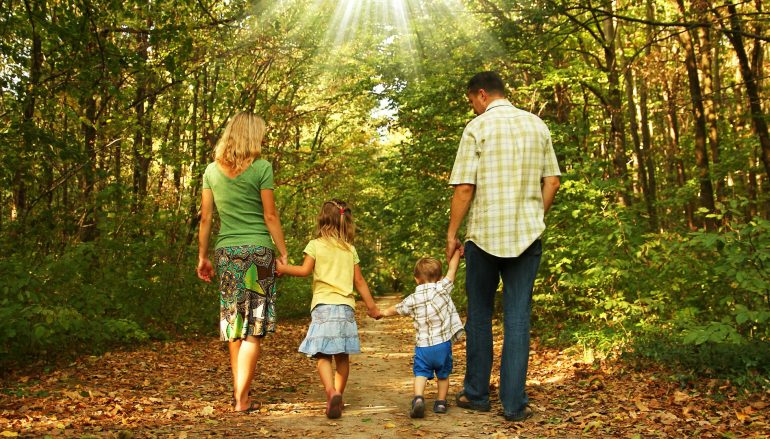 Nationwide Rosary Walks to Heal Ourselves and to Heal Our Land
God's Action through this Global Pandemic
Calling Out to the Three Hearts!
Just as this global pandemic was beginning to throw the world into all out panic (particularly, grave reports coming out of Italy), I discerned it was time for us to pray in a mighty way. We have over 57,000 enlisted in the US Grace Force (you can enlist HERE), so I put out a call to the Grace Force and on social media for everyone to pray a 54-Day Rosary Novena that would begin 54 days before the Feast of St. Joseph the Worker (So, from March 9 to May 1). There were signs the economy could be severely impacted by this pandemic, so we wanted to ask for the power of the Chaste of Heart of St. Joseph, along with the Sacred Heart of Jesus and Immaculate Heart of Mary. We were pulling out all of the stops – all Three Hearts – in this fervent prayer campaign we entitled, "Three Hearts Novena."
Low and behold, on Monday, March 9, as we began our 54-Day Three Hearts Novena, the stock market crash of 2020 began on this very same day. Monday, March 9 would become known as "Black Monday." It was clear, fervent prayer was needed.
Halfway through our 54-Day Three Hearts Novena, the daily Coronavirus Task Force Briefings were becoming even more frightening, as they were warning us of a very severe spike of cases and deaths that would begin during Holy Week. "It's going to be the hardest and saddest week in Americans' lives," they said, "Just prepare yourself for the worst," the Task Force warned.
God's Intervention During Holy Week
By the grace of God, this never transpired. Instead, all of the models showed a "flattening of the curve." And so, it was the week after Holy Week that all of the talk shifted to ways in which we can begin to emerge from our quarantine; to start opening up the economy. The word "quarantine" literally means "40 Days." The 40 days of Lent were over and it looked like we could now rise from our tombs; our lockdown in our homes.
The Shift from Safety to Politics
However, in the estimation of a growing number of people, this was the point in which this crisis began to be politicized. The old adage, "Never let a crisis go to waste," began to be deployed by those who saw an opportunity to gain power and control by way of this pandemic. While it became evident that the "worst case scenario" predictions were not transpiring, concern shifted to healing the economy in order to reduce poverty and all of its horrible effects (depression, suicide, addictions, abuse, etc.). Meanwhile, during an election year, socialist "bad actors" sought to maintain a high level of panic and, therefore, continue to extend lockdowns in order to damage the economy and fulfill their dream of "widespread government dependency." Some believe the ultimate dream is a "new normal," which translates to a "new world order."
By the Grace of God, May 1st Ends Up Honoring All Three Hearts
As I said, the end date of our 54-Day Three Hearts Novena was chosen in order to include the Feast of St. Joseph the Worker (May 1). What escaped my notice was that this was also a First Friday, which honors the Sacred Heart of Jesus. Then, something amazing occurred. On April 23, Archbishop Jose Gomez of Los Angeles and president of the U.S. Conference of Catholic Bishops (USCCB) announced that the U.S. bishops would join the Canadian Conference of Catholic Bishops on May 1 in renewing the consecrations of the two nations to the care of our Blessed Mother, under the title of Mary, Mother of the Church. Just like that, God added the "Third Heart" to the culminating 54th Day (May 1) of our Three Hearts Novena; a day in which we had already planned to consecrate ourselves to all Three Hearts.
Answering the Call to "Rosary Walk"
In the days leading up to May 1, the "political" battle intensified, and the socialists were, quite obviously, excluding people of faith in the "extending" of their opening plans. This is when I discerned I needed to go to our Wisconsin State Capitol with my rosary, and do a "Rosary Walk" around the Capitol. I chose May 1 (Consecration Day) as my first day, and I have tried to get up to the Capitol as many days as I can throughout each week. An amazing family and some others would join on many days.
Answered Prayer on the Feast of Our Lady of Fatima
Amazingly, while on these "Rosary Walks," it was on the Feast of Our Lady of Fatima (May 13) that the Wisconsin Supreme Court struck down Governor Evers "extended" stay-at-home order. From this point forward, churches were considered "essential," and so were, immediately, allowed to open to 25% of capacity. I couldn't help but see this as a way Our Lord and Our Lady were confirming the benefit of these "Rosary Walks."
Why Rosary Walks?
As those who follow my teachings know, I believe, very much, in the supernatural power of God. And, I try to do all I can to help others believe, as well. In conceiving something such as "Rosary Walks," I believe, by this very powerful prayer, we become a "conduit of blessing" on the ground we walk. We are given an authority to effect change through this "Rosary Walk" blessing and, quite literally, "reclaim surrendered ground." That is exactly what I believe God directed me to do when He called me to bring my rosary and walk the ground of our State Capitol.
There is something Biblical about walking the land …
"I will give you every place where you set your foot, as I promised Moses." -Joshua 1:3
Of course, we are not referring to grasping hold of the deed to the land on which we walk. We are not reclaiming the land for ourselves, but for God. We are asking for a "spiritual shift" on the ground in which we walk and pray.
Expelling the Demon Snakes from the Land
Through prayer, we are, in essence, spiritually cleaning the area the enemy has defiled through sin. We are reclaiming the rights from the enemy who has infiltrated any given area (neighborhood, park, government building, etc.). We know that the Blessed Virgin Mary crushes the head of the serpent so, like St. Patrick, we are expelling the demon snakes from the land as we bring this very powerful weapon of the rosary to defeat the enemy's claim on the area in which we "Rosary Walk."
June 1st!  Go out!  Filled with the Holy Spirit!
I write this as we are in the nine days (novena of days) between the great Feasts of Ascension and Pentecost. This is a time when the Apostles waited – huddled in the Upper Room in intense prayer – for the coming of the Holy Spirit. On Pentecost, they received a power and then, courageously, they "went out" to bring that light and power to the world. Jesus even assured them, and us, we will do even "greater things than these" …
"Very truly I tell you, whoever believes in me will do the works I have been doing, and they will do even greater things than these, because I am going to the Father. And I will do whatever you ask in my name, so that the Father may be glorified in the Son. You may ask me for anything in my name, and I will do it."
–John 14:12-14
Pentecost Sunday is on May 31st. What if we all went out, filled with the Holy Spirit, beginning June 1st? June, for many, marks the beginning of the "Summer Months." Time to get out into the outdoors.
Now is exactly the time for all people of faith to rise from our tombs (quarantine) and get out into the sun to bless the land! We are being told that sunshine (Vitamin D) and exercise brings physical health as it fortifies our immune system (see short video below). And, people of faith know that a strong prayer life brings spiritual health as it brings God's blessing to every person and every place it touches.
June 1st is the Feast of Mary, Mother of the Church!
BUT, there is something amazing about June 1st, the day after Pentecost …
Recall that the Bishops of the United States and Canada consecrated our countries under the title of "Mary, Mother of the Church." Providentially, June 1st is the FEAST DAY OF MARY, MOTHER OF THE CHURCH! WOW!
Let's pray, intently, for a fresh and new outpouring of the Holy Spirit on Pentecost and, beginning on June 1st, let's bring the power of the Holy Spirit we have received to bless this land of ours with these "Rosary Walks!"
Let's embrace our call to bring God's blessing to heal our land!
"If my people, who are called by my name, will humble themselves and pray and seek my face and turn from their wicked ways, then I will hear from heaven, and I will forgive their sin and will heal their land."
-2 Chronicles 7:14
Power Up Your Prayer!
I believe this "Rosary Walk" movement is not meant to be complex, at all. Simply grab your rosary (and your family and friends) and get outside and walk. I recommend just two ways to strengthen your prayer:
Be in a State of Grace – This is our Spiritual Armor. Keep your Confessions, at most, a month apart (or right after serious sin).
Fasting – Fasting adds strength to our prayers. Fasting gives the underdog the advantage. Fast in whatever way God is calling.
Please take photos of you and your Rosary Walk Warriors. We will try to post those on the website. Please include where you are walking. 🙂
We'd like to show where you are Rosary Walking on a google map. So, please sign-in on the google map. It's like planting a flag, claiming that territory for the Kingdom of God, driving out the evil demon snakes. 🙂
A very brief video (2:30 minutes) that sheds light on the importance of sunlight (Vitamin D) to fortify our immune system:
Related Articles
Read more from USGF Training in Holiness